Learning guitar can be a little daunting. Not only do you have to figure out the right way to learn — whether it be online or through books, or with an instructor (which we always recommend), but you also have to figure out what guitar is right for you. And if you're a beginner, who may not know as much about guitars as the seasoned pros, choosing the best guitar for beginners can be a little difficult.
Of course, that's why we've put together this guide — to help you figure out what guitar is right for you. If you're looking for a new guitar, there are a number of things to consider. For starters, you'll want to think about whether you want an electric or an acoustic guitar. And, you'll want to think about the budget, and the overall sound you're going for,
Whether you're looking for a great electric guitar or a solid acoustic guitar, here are some of the best guitars for beginners.
Best electric guitar for beginners: Fender Player Stratocaster

The Fender Player series has long been a great way to get a decent electric guitar at a reasonable price. While these guitars may not compare to Fender's higher-end guitars, they still offer that classic Strat tone, making them perfect for beginners and experts alike. On top of that, the Fender Player Stratocaster comes at a very reasonable price — you can get it for around $700, which isn't bad at all.
The Fender Player Stratocaster comes with an alder solid body along with a C profile neck and Fender's classic single-coil pickups. It also features a modern fretboard with a 9.5-inch radius and 21 medium jumbo frets. All that to say, this is a great way to get a classic tone from a reasonably-priced guitar.
Best acoustic guitar for beginners: Yamaha LL6 ARE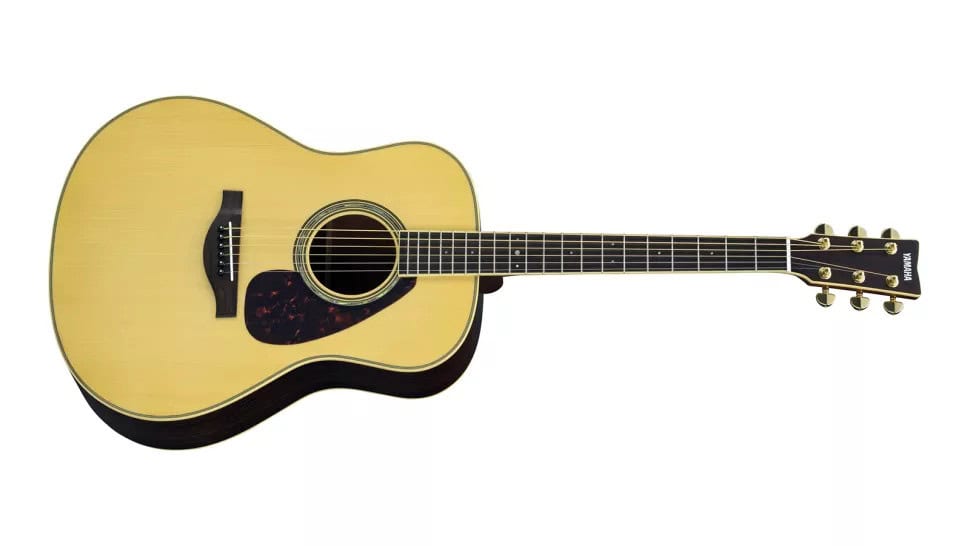 Yamaha makes a range of excellent guitars at affordable prices, and if you're looking for an acoustic guitar, then it's worth considering the Yamaha LL6 ARE. This guitar sounds great both on its own and plugged into an amplifier, plus it has an excellent build quality despite its low price tag. Speaking of price, it may be slightly higher than some beginners want to spend — but it's worth the cash.
The guitar has a number of things going for it. It's built with Yamaha's A.R.E (Acoustic Resonance Enhancement) wood reforming technology, meaning the wood can be manipulated into a more acoustically ideal condition. All that to say, despite the fact that the guitar is cheaper than most high-end acoustic guitars, it's still awesome-sounding, and a great choice for beginners.
Buy here:
Reverb
Best electric guitar under $500: PRS SE Standard 24

PRS makes guitars far more expensive than this, but if you want that classic PRS tone without shelling out a ton of cash, the PRS SE Standard 24 is the way to go. The guitar is beautifully-designed, has an excellent build quality, and sounds great.
The PRS Standard 24 comes with a 24-fret mahogany neck, with a rosewood fretboard and bird inlays, along with PRS' patented molded tremolo. Perhaps even more important is the fact that the guitar features that now-classic PRS tone — so don't feel like you're missing out just by spending a little less. The guitar comes in a few beautiful colors, including Tobacco Sunburst, Vintage Cherry, and Translucent Blue. All three colorways come at $499.
Buy here:
Reverb
Best acoustic guitar under $400: Takamine GN30

The Takamine G Series often extends way past the $400 mark, but there are a few models that fall under that mark without sacrificing much on quality. One such model is the Takamine G Series GN30, which boasts a spruce top with a mahogany back and sides. Along with that, you'll get a slim satin-finish mahogany neck with a 12-inch radius.
Other features on offer by the Takemine GN30 include a synthetic bone nut and bridge saddle, along with pearloid rosette and dot inlays, chrome die-cast tuners, and more. Generally speaking, Takamine guitars don't just look good — they also sound pretty good. You can expect a guitar like this to last for years to come — even despite its low price tag.
Best guitar under $200: Squire by Fender Bullet Stratocaster

Squire is Fender's budget brand, but while Squire guitars certainly aren't as high-quality as their Fender counterparts, they still have a lot to offer. In particular, we're big fans of the Squire Stratocaster, which offers the same classic design as the Fender Stratocaster. Under the hood, you'll find three single-coil pickups with a 5-way switch and a bridge tremolo.
While you may find yourself wanting to upgrade as time goes on, there's no doubt that the Squire Stratocaster is a very solid option for those looking for a great budget guitar.