The days of lugging around an amp rig that weighs as much as your car are over! You can now get big, realistic amp tones from pedals that aren't much bigger than the others on your board. Unlike guitar amp modelers, each selection here is an analog design. So rest easy, no more putting your precious tone in the hands of fate by relying on vague descriptions of venue backline or having to rent whatever the sound company has available. Here are 6 of the best guitar amp pedals.
Best Overall – Hughes and Kettner Amp Man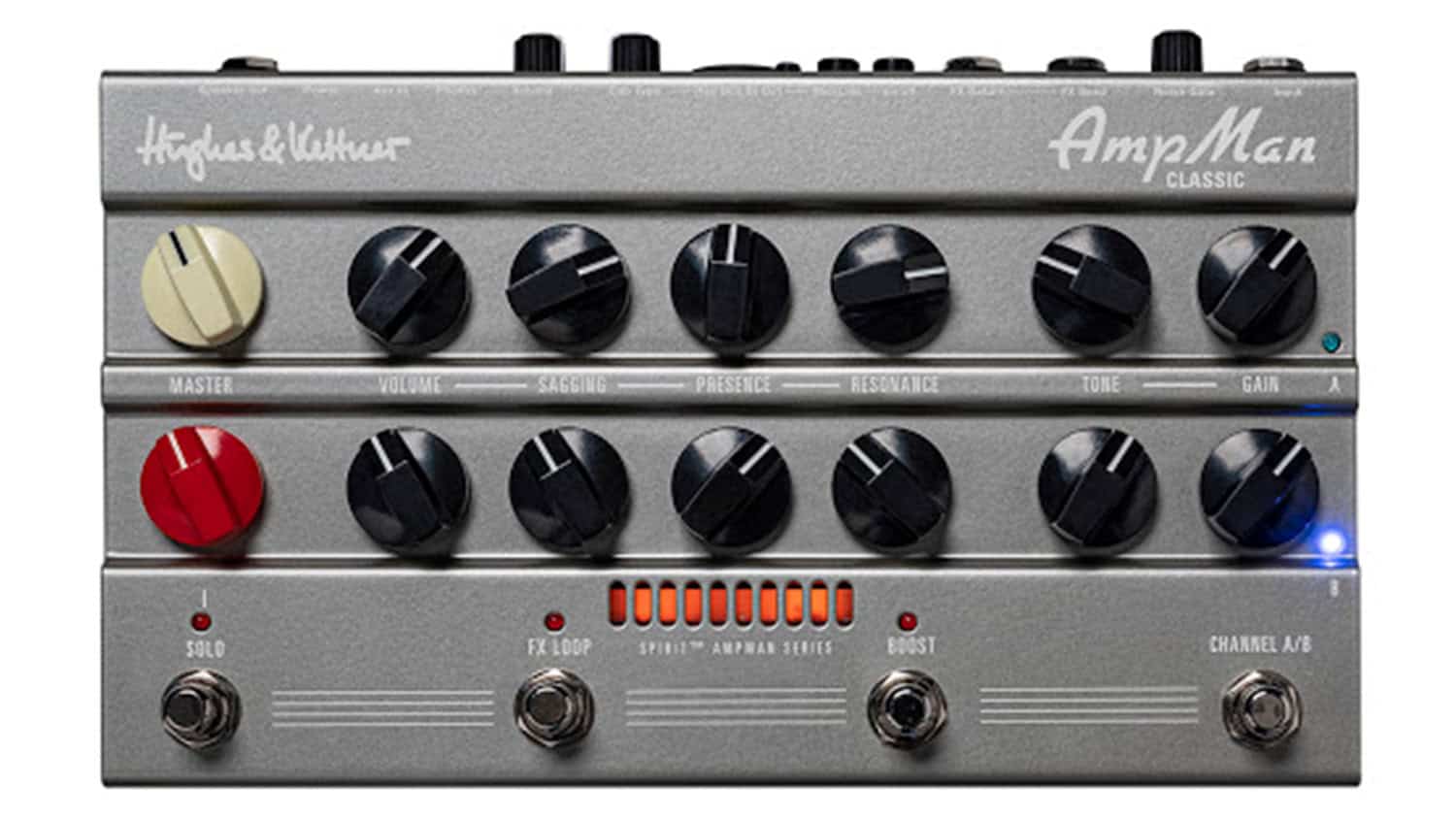 If you like H&K amps, wait until you see what this little baby can do! 50W pumps through channels that have identical and independent control sets. With the Tone control, you can select between British chime and overdrive all the way over to California cleans. The Presence, Sag, and Resonance controls let you adjust how the power amp behaves and reacts. But perhaps the most innovative feature is H&K's very own Spirit Tone Generator technology. This allows you to tailor the power amp saturation as you would by cranking a real amp via the Sagging knob – but without the unmanageable volume levels.
It can output to a 4-16ohm external cabinet, or use the onboard Red Box cabinet simulation to send a direct signal of one of 8 impulse responses. Switchable serial FX loop and built-in noise gate let you integrate your other pedals with it. And finally, Boost and Solo switches let you take it up a notch no matter what channel you are on. Amp Man comes in Classic and Modern tone styles, but the units function the same.
Buy now: $400
Amazon | Musician's Friend
Best High End – Victory V4 Duchess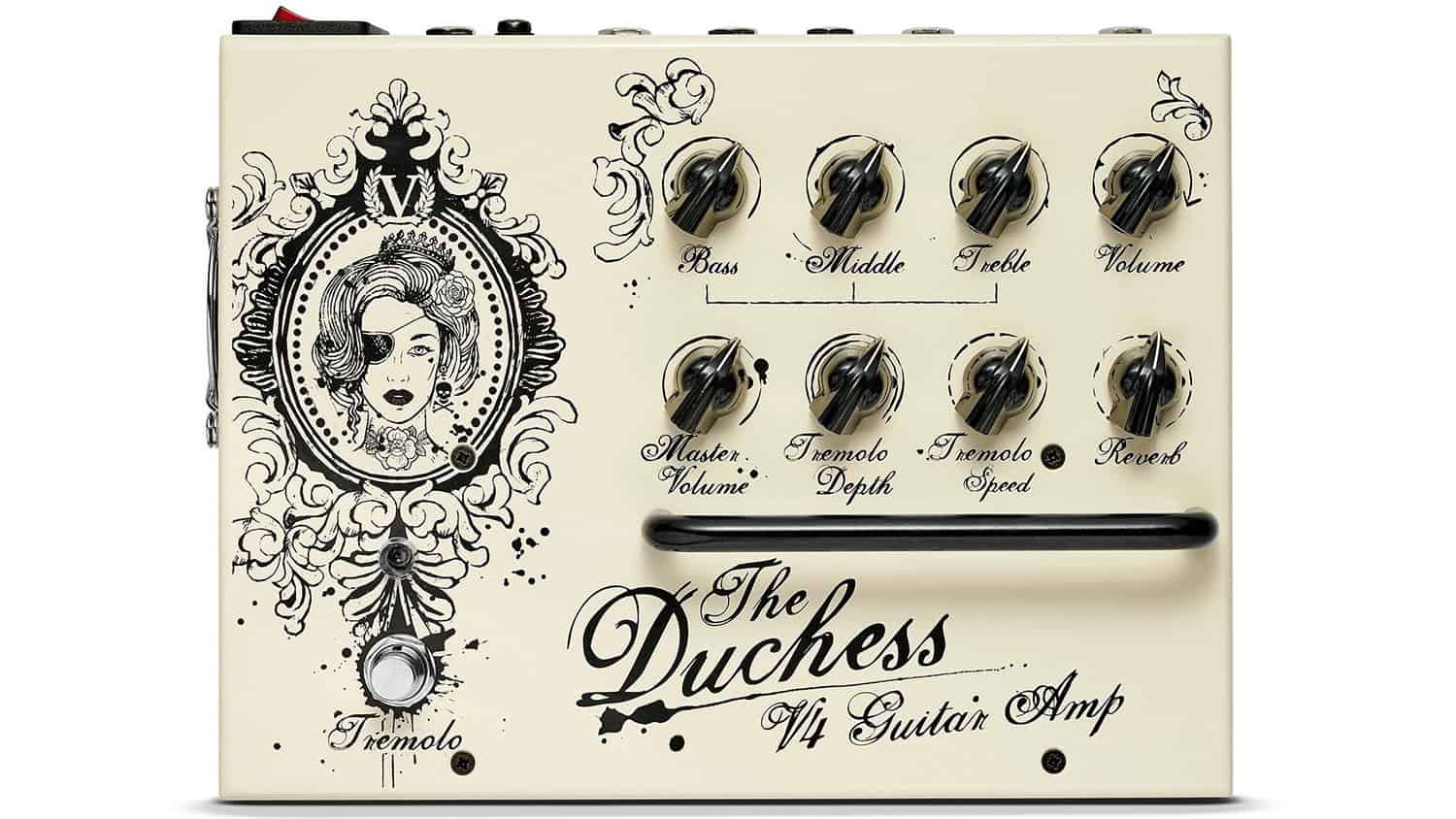 This option is just as classy as the name implies. It is a single-channel all-tube preamp with a solid-state Class D 180W power section. When run with a 4ohm cab it operates at 180W, but if you're using an 8 or 16ohm cab it will run at 90W and 45W, respectively. It has a 3-band EQ and onboard tremolo and reverb, though they are both digital. The tremolo can be controlled externally but the reverb cannot. A balanced line out lets you fed whatever might be next in your signal chain. Among guitar amp pedals, this one is royalty.
Buy now: $850
Amazon
Best Power Amp – Seymour Duncan Powerstage 170/200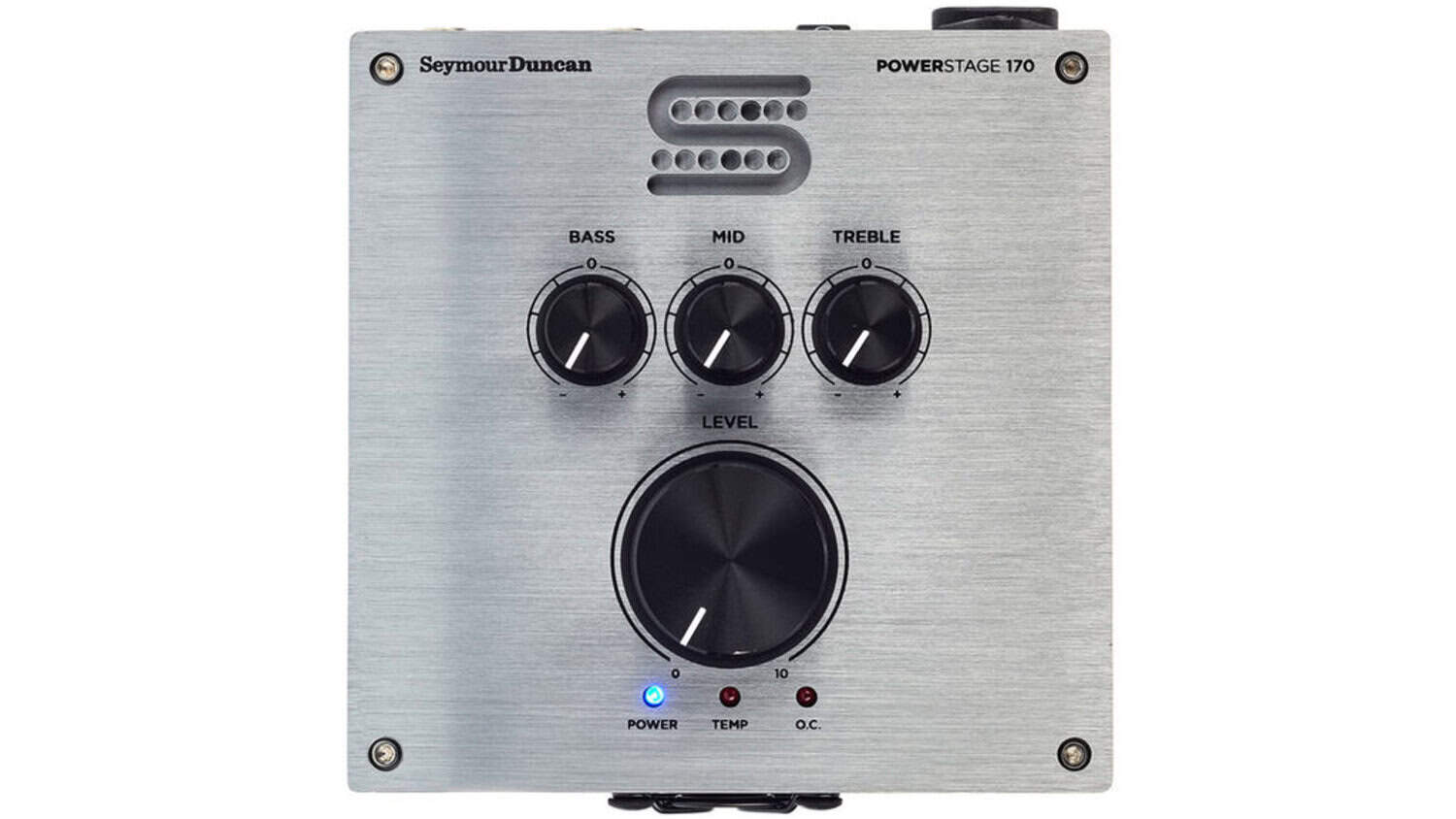 Amps don't get much smaller or simpler than this. 170W or 200W crank through an amp-in-a-pedal that can fit pretty much anywhere. You can run your signal through your pedal chain or right into the amp. 3-band EQ and Level controls are all you need to get things going. It can run cabinets all the way up to a 4×12. Keep in mind this is a power amp. You will still need some sort of preamp or tone shaping going into it. But it's pretty awesome you can just bring a pedalboard to a show and plug into the backline, right?
Buy now: $400-700
Amazon
Most Tones – Quilter Labs SUPERBLOCK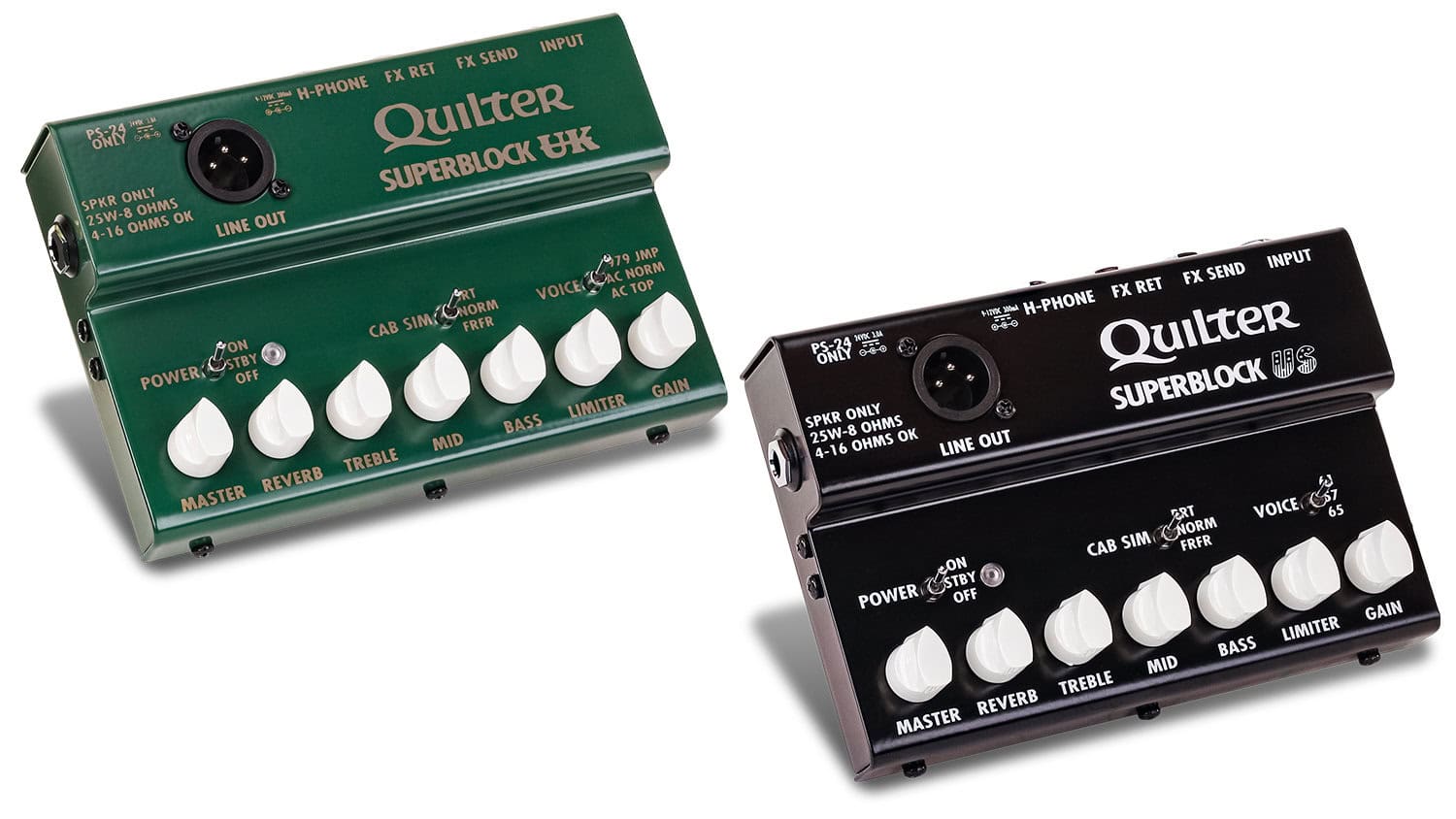 The SUPERBLOCK puts a 25W tube amp right on your pedalboard without taking up much real estate. It comes in UK (Vox and Marshall-sytles) and US (Fender-style) versions. Each model has three different voicings and onboard limiting and reverb. It offers two distinct cab simulations as well as a FRFR mode (for use with your favorite next generation modeler) on the XLR and headphone outputs. The FX loop lets you keep your cabling short, as you'll likely have this right beside your other pedals. Among the best guitar amp pedals, this one covers a lot of tonal ground.
Buy now: $250
Guitar Center | Musician's Friend
Diezel VH4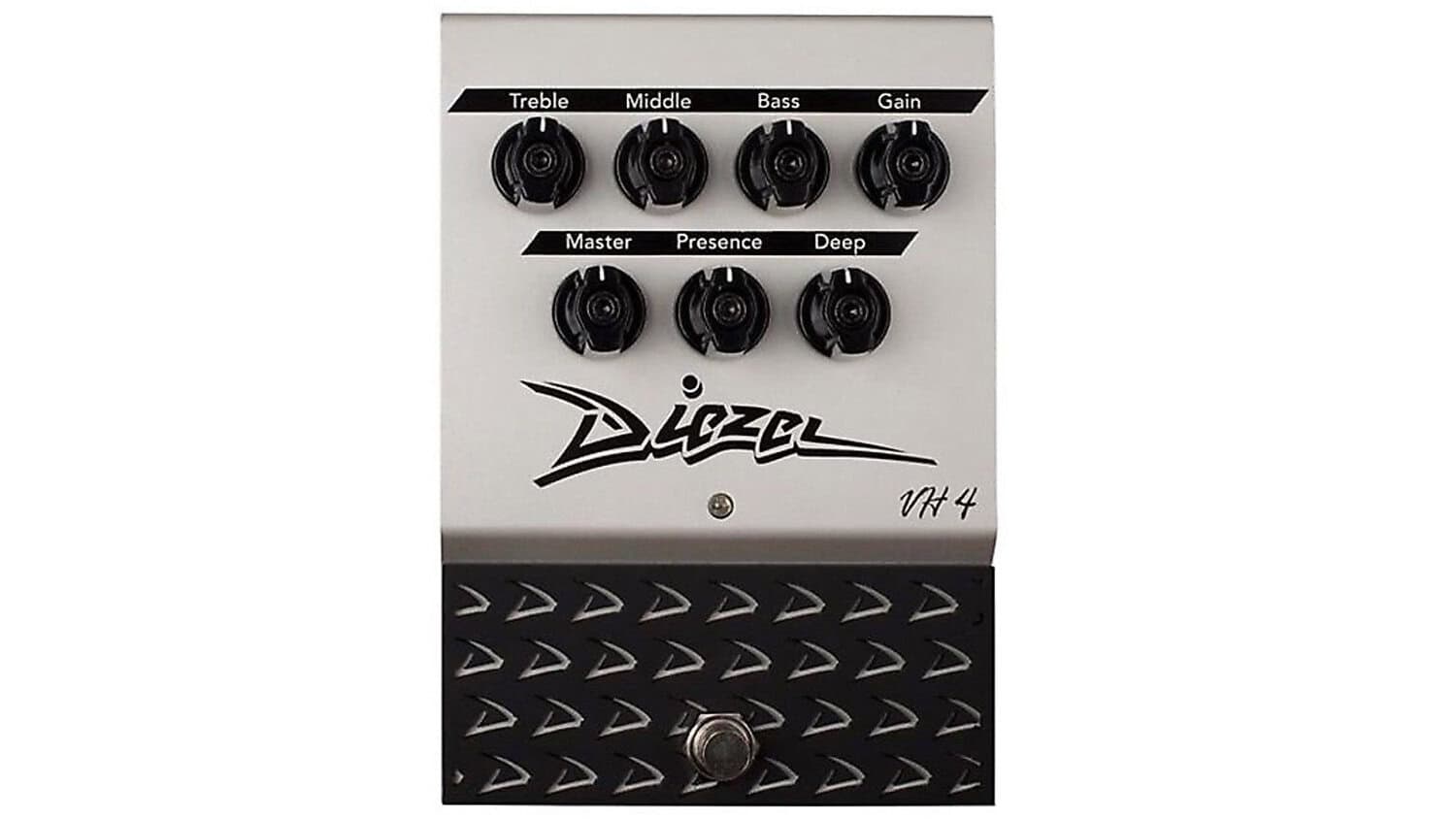 Diezel is a popular brand in the hard rock, punk, and metal communities. The VH4 is one of their most popular amps, and with this pedal you not only get that sound in a pedal format, but you also get the option of replacing your current amp altogether! It's a simple control set with an additional Deep control that functions the same as on the VH4 amp. Split outputs lets you use it simply as an overdrive pedal or a preamp to send signal to an external power amp source – or through the FX return on your amp. It also comes in a two-channel version.
Buy now: $250
Amazon | Guitar Center | Sam Ash | Musician's Friend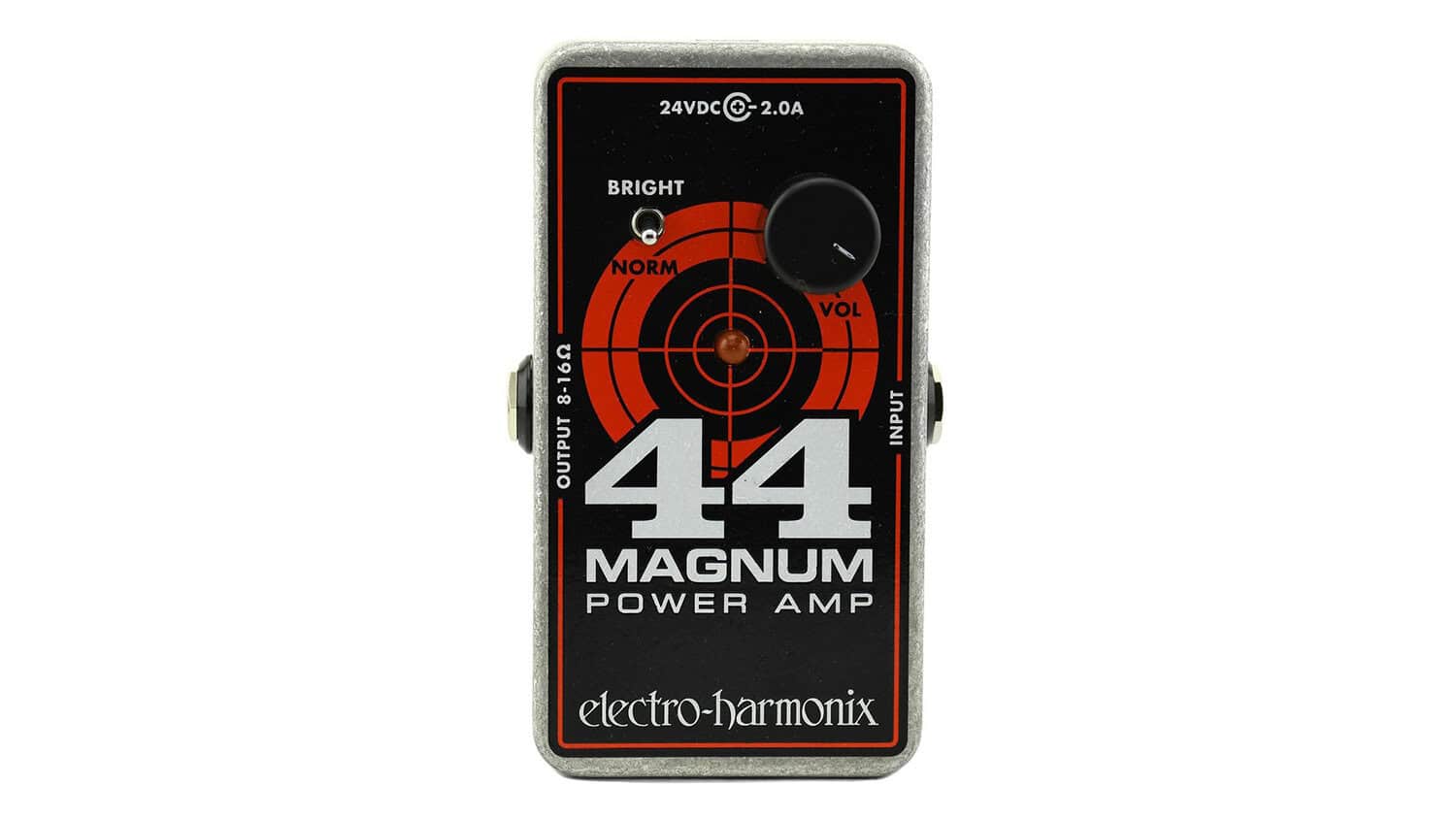 It doesn't get simpler or smaller than this. The Magnum is 44W that can power an 8 or 16 ohm cabinet, all in the size of a standard pedal. It's single channel, mono and you just run the output directly into the external speaker cabinet. It integrates with your other pedals for a very ergonomic and travel-friendly utility that doesn't skimp on power.
Buy now: $151
Amazon | Guitar Center  Musician's Friend