SPL DrumXchanger is drum sound replacer, but delivers a lot more than just basic sample replacement – with plenty of intuitive control within, it's simple to gain total control over precise designing and blending of drum tones. Easy to understand controls make replacement a breeze and give great control over dynamics and allow samples to feel like a real part of a performance.
DrumXchanger features a "Dual Threshold Technology," which allows for better level recognition by setting a threshold for the main level as well as transients. Finding the right level with both of these thresholds will produce near perfect sound recognition that I was quite impressed by. More control of the original drum sound and the sampled drum sound can be achieved by digging into the two transient designers. On the original sound, attack, sustain, and ducking can be modified. A "Trigger" button can be activated to have these controls affect the sample recognition as well. I found the ducking parameter to be very helpful in creating a realistic sounding blend of sounds. This can be set from 0 to -40dB and allows the sample to better break through when triggered, but preserves the sound of the room within the original sample's sound. Toying with this parameter ensures a sample that enhances the original kit, instead of only overpowering it.
To help all of the sample hoarders out there, DrumXchanger includes four 16-level multisample SPL drum kits with a kick, snare and four toms to choose from. These samples are a great starting point and a great addition to any library. Before using any of your own samples, make sure to try these. Color coding of the different kits makes it easy to recognize what SPL kit you're working with and sample selection is easy with the visual selector.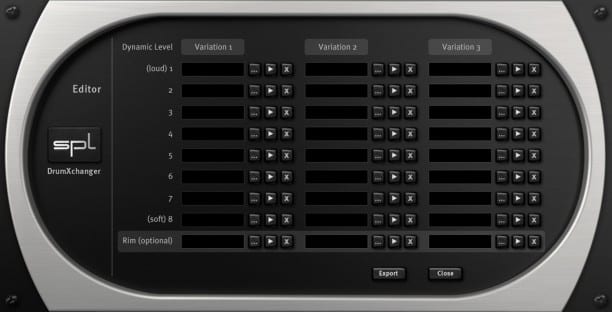 An important part of DrumXchanger that shouldn't be overlooked is the Editor. Going into the Editor allows for inserting your own samples into DrumXchanger that are of different dynamic levels, allowing you to create your own multisample kits to add alongside the SPL kits for easy use. Three variations can be loaded in with eight dynamic levels, and a rim shot can be included as well. These then can be exported as a SPLX multisample file, to be used in other projects and easily recalled.
DrumXchanger packs a lot of punch for the price, and stands up easily to other drum replacement plugins. DrumXchanger excels in allowing samples to fit into the feel of the original kit and bring new life to it that we're aiming for when adding samples. Make sure to give it a demo run and see if you find it as easy to integrate into your drum edit workflow as I have.
10/10