Design -

8.5/10

Ease of Use -

9/10

Sound -

8/10
Mobile devices like smartphones are getting increasingly powerful, and it's easy to image a world in which recording through a smartphone is common. Roland is attempting to make pro-quality recording a little more accessible, thanks to the new Roland Go:Mixer Pro, which is aimed at bringing high-quality audio recording to your smartphone in a package that's portable and affordable.
But does the Roland Go:Mixer Pro truly deliver on that promise? Or is the device more of a gimmick? We put the Roland Go:Mixer Pro to the test to find out.
Design and setup
When you first take the Roland Go:Mixer Pro out of the box, you'll be struck by how small it is. At around 6-inches long, 4-inches wide, and 1.5-inches thick at its thickest, the Go:Mixer Pro is very easy to throw in a bag to take on the road with you.
At first, you might be taken aback with the slightly strange design of the Go:Mixer Pro, but once you realize what the design is for, it makes sense. The device is aimed at holding a smartphone during recording, so it has a taller section at the back where you can slot your phone. We like that — it makes it easier to keep an eye on the device during recording, plus it's great for users who want to use the device for video recording projects.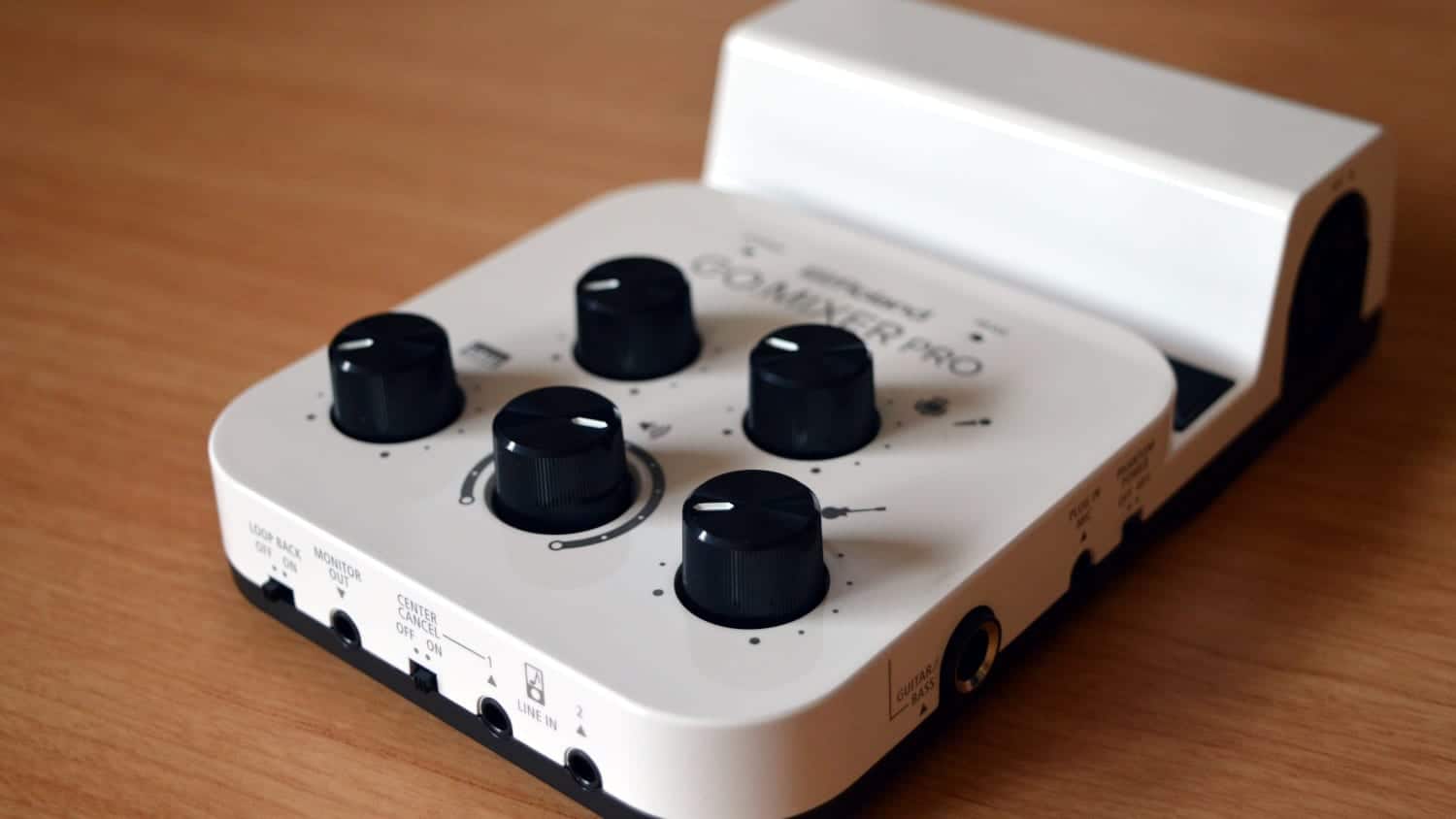 Around the sides of the device, you'll find ports and a few switches. On the left, for example, you'll get a stereo instrument input, while on the right can be found a guitar/bass input, a plug-in for a microphone, a phantom power switch, and an XLR input. On the front, you'll get line in ports, a switch to control loop back, and a monitor out port.
The top of the device is where you'll control the gain of all those inputs. There are five gain knobs in total, and while they work perfectly fine, they did seem to have a slightly cheap feel to them. Of course, that won't matter all that much if you take care of the device, but it's still something to note.
On the left of the Roland Go:Mixer Pro, you'll also find a small battery compartment, though we found it a little tricky to access. There's a door that you can unscrew, but it takes a while to unscrew it, and we would have liked a slightly easier way to access the battery compartment. We also would have liked for Roland to include batteries in the box — to use it, you'll need to get batteries separately, which is a little frustrating. Thankfully, the device itself can draw power from the phone it's connected to, but if you plan on using a microphone that needs phantom power, you will need batteries.
To use the Go:Mixer Pro, you'll need to download a compatible app on your smartphone and use the correct cable. Included are adapters for iOS devices, devices with USB-C, and MicroUSB, which we appreciated.
Once you plug the device into your device, it should automatically assign the device as the default audio input and output. With an iOS device, you'll find that audio is automatically routed through the Go:Mixer Pro, meaning you can use it with Garage Band, Voice Memos, or any other app that can record audio. We also tried using the device with Roland's own Beat Sync Maker App, and while we didn't love the app, the audio portion of it worked perfectly fine.
In use
Once everything is set up and you've got the hang of things, using the Roland Go:Mixer Pro is actually very easy. Really, the only thing you'll need to get used to is mixing your audio on the go. After all, if you're used to working with digital audio, you're probably used to being able to mix your audio after recording — but with the Go:Mixer Pro, everything is mixed into one audio track by the device itself.
Really, that's all there is to it — except for sound quality. Thankfully, however, the Roland Go:Mixer Pro works fine. Sure, the preamp isn't as high quality as much more expensive preamps, but then again, you wouldn't expect it to be. After all, the Roland Go:Mixer Pro comes at a price of $100, and at that price, we think the converters are actually quite good. Audio is clear and detailed, and while it's certainly not studio-quality, for a device built to record audio on the go, it does perfectly fine.
Conclusions
The Roland Go:Mixer Pro is a great way to get high-quality audio on the go without the need for a portable audio interface and a laptop. In fact, we would argue that this is one of the most portable recording options out there that still sounds great. Coupled with an app like Garage Band, you'll find it very easy to record a band or songwriter straight from your phone — and if you're more into video streaming or recording, then the Roland Go:Mixer Pro works well there too. Safe to say, we strongly recommend the Roland Go:Mixer Pro to anyone who wants to turn their smartphone into a recording powerhouse.