Design -

8.5/10

Sound -

9/10

Value -

9.5/10
Mackie has long offered a series of excellently-priced speakers for those that want a high-quality experience without having to pay much. I personally have had Mackie monitors as part of my home studio for years now. Recently, however, Mackie has been taking the word "affordable" to a new level, through its CR-X series monitors.
The monitors range from the $100 CR3-X monitors, all the way up to the 8-inch CR8-XBT monitors, which come at $350. But for that money, you're entering higher-end speaker territory, and as such, the sweet spot seems to lie in the CR4-X monitors, which come in at $150.
That's the model we were lucky enough to check out. Are the Mackie CR4-X monitors worth buying? We put them to the test to find out.
Design and features
The Mackie CR4-X monitors are solidly built, and have a design that means they should look great in any setup. Some will disagree though — the monitors offer green highlights that some may not love, and its perhaps not as universal of a look as if they had silver highlights. I don't mind the green at all, and in fact, I quite like it in a world where every other speaker in this price range basically looks like a black rectangle.
One of the best things about these monitors is how compact they are. They're built to be able to fit on really any desk or table, whether it be next to a lone laptop, or next to all your outboard gear. The speakers measure in at 8.75 inches tall, 6 inches wide, and 7 inches deep, and that should make them a great option for those who want something portable or compact.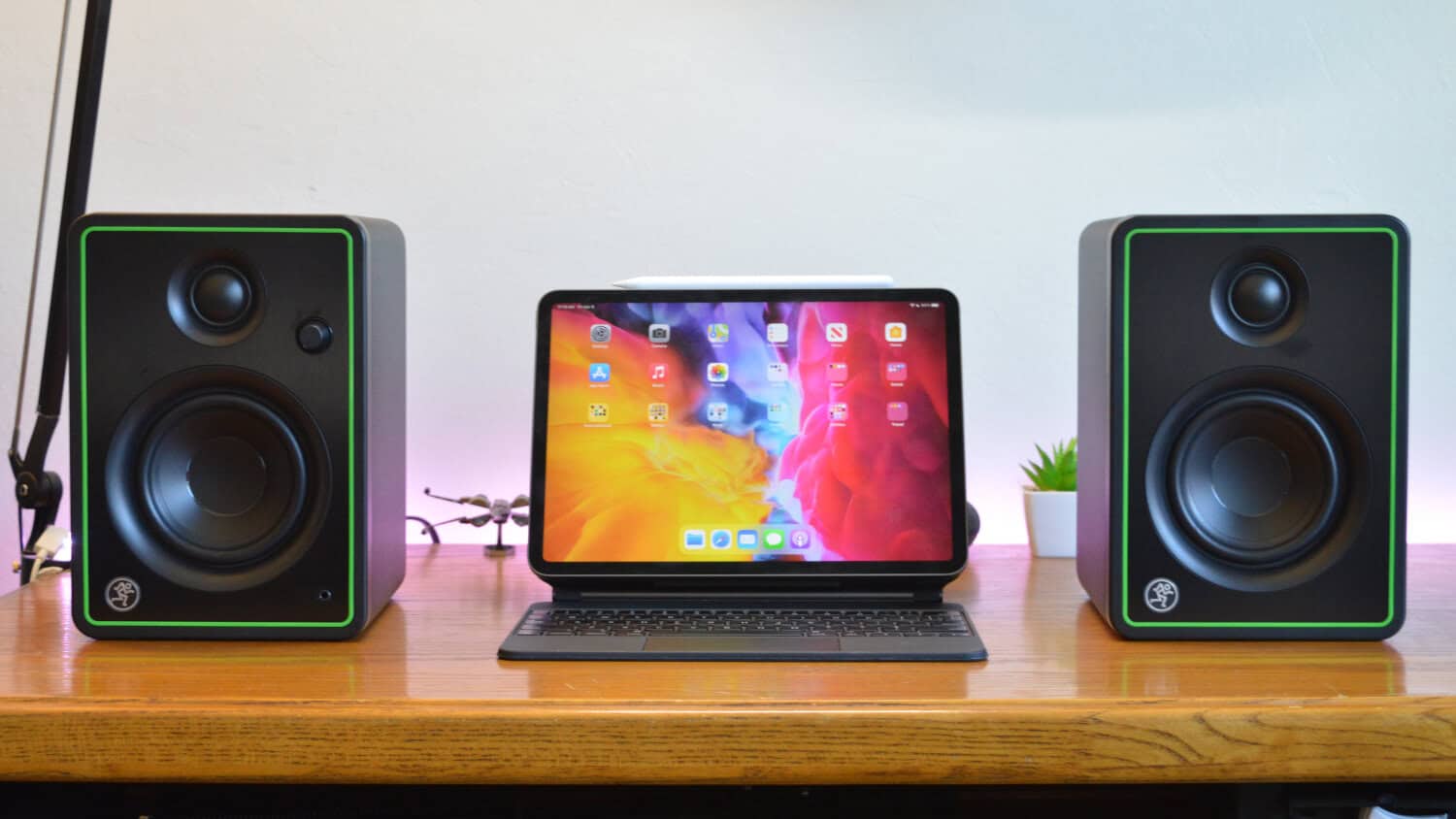 The speakers offer a decent build quality too. They're largely built from wood and plastic, but it's a nice hard plastic that should survive most bumps and knocks. To be clear, you should take care of the speakers like you would any others — but in case of the odd bump, they'll do fine.
A Mackie CR4-X pair is made up of one powered speaker and one passive speaker, which becomes immediately clear when you take them out of the box. On the front, the speakers offer a 4-inch woofer with a 0.75-inch silk-dome tweeter. One of them also has a volume knob and headphone jack on the front, along 1/4-inch, 1/8-inch, and RCA inputs. There's also a left and right switch, which allows you to decide which side you want the powered speaker on. This is a nice touch — as one side might make more sense depending on what side you want the headphone jack or where your sources are. The other speaker — the passive speaker — just has a speaker input, which connects with the included speaker cable to the other side.
Apart from the monitors themselves and the speaker cable, you'll also get an 1/8-inch cable and an RCA cable. It's pretty much everything you'll need to get started.
Sound
You might assume that such a small speaker makes for a small sound. You'd be wrong. The Mackie CR4-X monitors are able to deliver enough oomph for almost any listening situations, whether that be for entertainment, mixing, or anything else.
Perhaps surprising to some is the fact that these speakers can pump out a solid amount of bass from their only 4-inch woofers. Kick drums get enough oomph to make their way through a mix, while bass guitars are smooth and warm. Now, for mixing situations that require accuracy, you may want to invest in the compatible 8-inch subwoofer, but those that don't or can't will still appreciate the low-end that's on offer here.
The mids are relatively flat and well-tuned, which is nice to hear. These speakers aren't necessarily built for exciting listening — they're built for a relatively accurate experience on a budget. To me, a flat response is exciting, but that's another story.
Another thing I appreciate about these monitors is that there's a solid amount of detail in the highs. It's not as pronounced as you would get by spending more, but that's to be expected — and for a pair of monitors in this price range, these do great.
Overall, the Mackie CR4-X monitors offer an excellent listening experience for the price — but they're not perfect. In order to enjoy that listening experience you're going to have to look past the hiss that can be heard almost all the time, no matter what volume you listen at. Now, you can't hear the hiss when audio is playing, but it's definitely there when audio isn't playing. You will get used to it over time, but it would be nice if you didn't have to.
Conclusions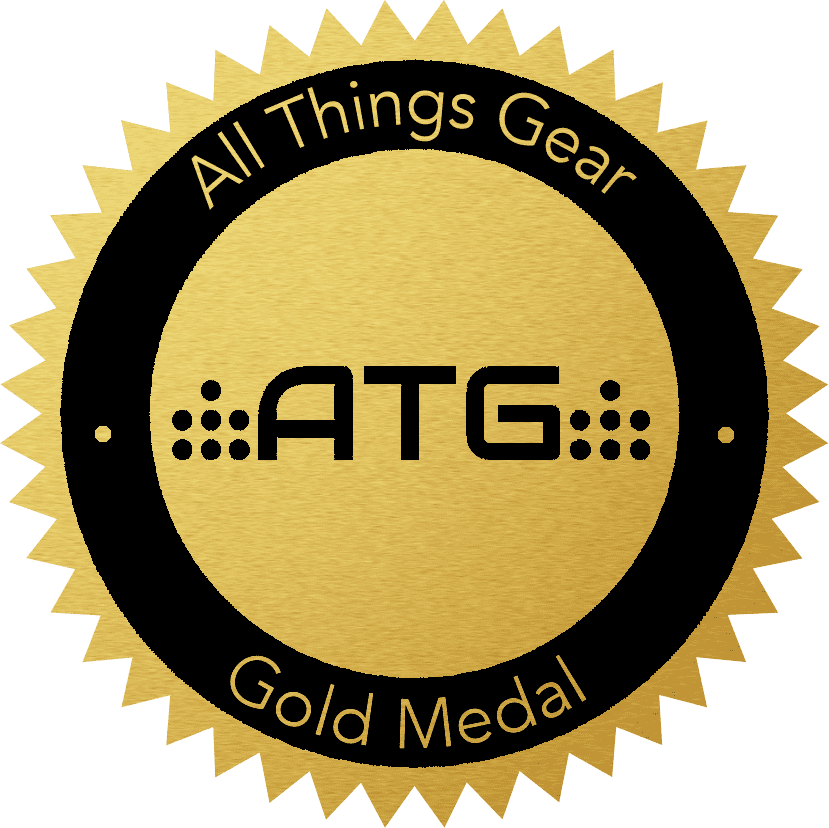 The Mackie CR4-X monitors have a lot going for them. They make for a relatively versatile experience, with enough inputs for most, plus the added bonus of a headphone jack that means you don't have to play plugsies when you want to switch to more private listening.
They also sound great. With a surprising amount of bass and excellent detail for a pair of speakers in this price range, the CR4-X monitors should be at the top of the list for those who have a budget cap of $150, as long as you can look past the constant hiss.
Because of their excellent value for money, we're awarding the Mackie CR4-X monitors the All Things Gear Gold Medal. You can get the Mackie CR4-X monitors for yourself using the links below.