Sound -

7.5/10

Design -

8/10

Features -

9/10

App -

8/10

Value -

9/10
When IK Multimedia first launched AmpliTube almost 20 years ago, it took the world by storm. Amp-modeling at the time left a lot to be desired in the professional world, let alone for home–recording enthusiasts. AmpliTube helped change that — and the software quickly became a go-to for guitarists around the world. Now, however, the company is using its using its amp-modeling experience for something else — to make an actual amp, called the IK Multimedia iRig Micro Amp.
While this might seem like a step backwards, the iRig Micro Amp is actually aimed at helping push amps in a new, more modern direction. The device is not only super portable and relatively light, but it can also connect to your smartphone, where you can tweak settings, add stompboxes, and more. It's a pretty smart system.
The iRig Micro Amp is relatively inexpensive too, coming in at $149 — but does it make too many compromises to hit that price point, or is it worth buying? We've been testing the IK Multimedia iRig Micro Amp for the past few weeks to find out.
Design
As with any new product, the first thing you'll notice about the iRig Micro Amp is its design, and it's not a bad-looking device. We knew the amp was aimed at being portable, but it was actually a little smaller than we imagined it would be, coming in at 8.3 inches wide, 6.1 inches tall, and 4.9 inches deep. It's certainly not pocket-sized, but it could definitely fit in a bag or case to easily take on the road.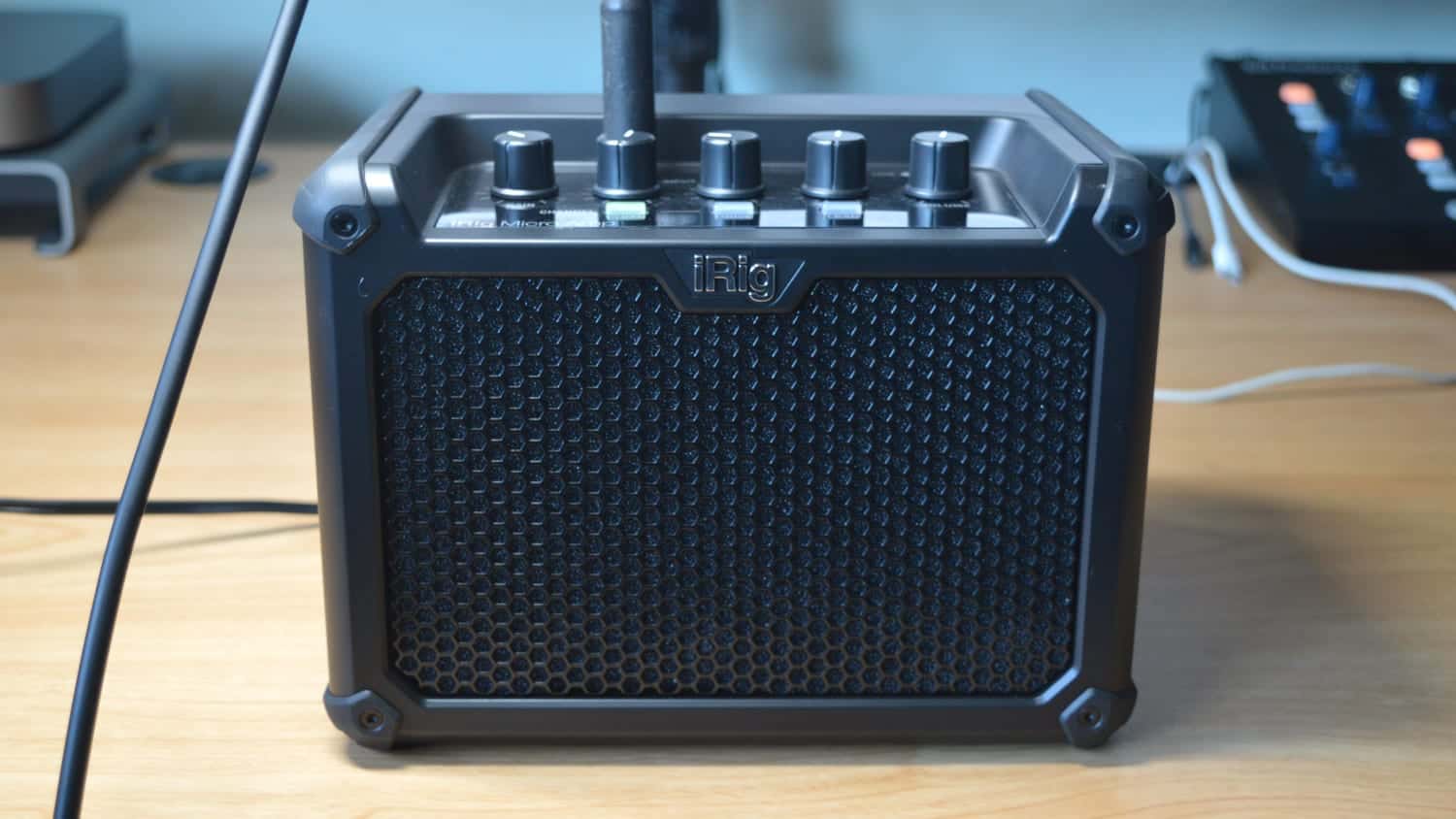 On the front of the amp, you'll get the speaker grill and iRig logo, while on the top is where most of the controls and ports are. From the amp itself, you'll get knobs for gain, bass, mid, treble, and volume, plus you'll get buttons to switch between "Clean," "Drive," and "Lead" channels. There's also a power button, an aux port, a headphone jack, and a MicroUSB port to connect the amp to a computer or smartphone.
On the back you'll find a power input and a speaker output, along with a hatch for batteries. You can use the amp battery-powered — though we mostly just used it powered from an outlet. Unfortunately, the amp doesn't come with a power adapter — you'll have to buy that separately if you don't want to use batteries.
The amp is largely built from plastic, but it still felt like a relatively solid amp. We never felt like the amp would break, despite the fact that it's relatively light, coming in at around 2.8 pounds.
Generally speaking, the IK Multimedia iRig Micro Amp is well-designed and easy to use.
Features
Design is one thing, but it's perhaps what's under the hood that's more important. The amp comes in at 15W when powered by the DC In port, or 7.5W when battery powered. We found that the amp actually got pretty loud for a 15W amp. More on that later.
Perhaps cooler than the amp speaker itself is the fact that the device can connect to your smartphone or computer, and be used in conjunction with the AmpliTube app. On the smartphone, you'll get access to a range of stompbox effects and different amp models, making for a pretty versatile experience. The only issue we had with using the device with a smartphone was that it doesn't charge your phone when it's plugged in — so you'll only be able to use the features for as long as your phone's battery can last. The amp can also be used directly with AmpliTube 4, which means you'll get great use out of it on your Mac or PC.
When connected to your computer, the amp essentially acts as an audio interface, and as an interface it can sample audio at up to 96kHz, which more than adequate for even professional studios. We don't expect most will need to record at such a high rate — but it's nice to have the option if you want it.
App
Using the amp with the AmpliTube Custom Shop app is actually super simple. Simply plug your iOS device in and turn the amp on, and the app should immediately recognize the app and allow you to start tweaking features. We were able to set the amp up with the app without any issues whatsoever.
The app is really the missing link in the Micro Amp product. Alone, the Micro Amp would be a fine product, but nothing special — but with the versatility of the app, you'll unlock a ton of sounds and features that you otherwise wouldn't get. When you first download the app, you might be a little disappointed with the options — but after registering your amp to your account, you'll unlock a ton of features. With the iRig Micro Amp, you get access to 10 amps and 26 stomp boxes in the AmpliTube CS app. They sound pretty good too — you'll easily be able to tweak the settings and add effects to find the kind of tone you're looking for.
Of course, if you don't you can spend the cash to get even more effects and tones. There are plenty of amps models and effects available in the app, and they generally cost around $3 to $5 each. There are packages of amps and effects available too, if you want them.
Generally, the app is pretty easy to navigate and well laid-out. You can record loops and tracks straight from the app too, which is a nice touch.
Sound
So how does the IK Multimedia iRig Micro Amp sound? Well, not bad — but it's worth diving into the app's effects and amp models to get the most of it.
As a standalone amp, for something this price and size, it sounds pretty good. No, this amp won't replace your 100W+ Fender or Marshall offerings, but that's not what the amp is aimed at — it's aimed at offering versatility in a portable form-factor, and as far as portable amps go, it sounds pretty great. That said, you will want to play around with the EQ a little to sculpt the sound.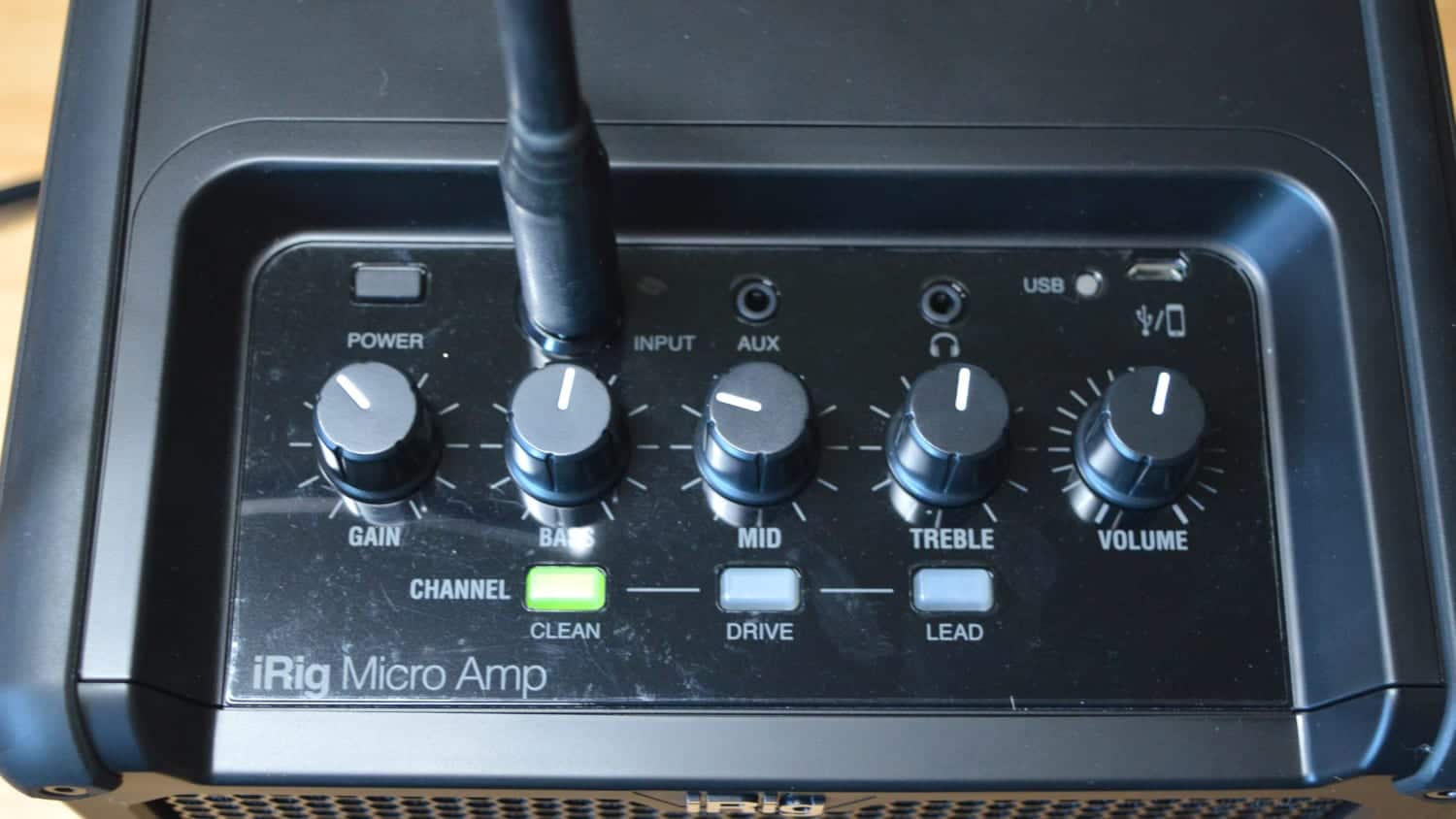 But the app's features are where the sound of the app turns from fine to good. We actually really enjoyed playing around with the different tones and effects in the app, and the extra effects definitely helped get the creative juices flowing.
When it comes to "portable" amps, sound quality usually suffers, and the IK Multimedia iRig Micro Amp is no exception to that rule. That said, for this price and this size, it definitely exceeded our expectations and offers a relatively high-quality sound.
Conclusions
The IK Multimedia iRig Micro Amp offers a ton of value. Sure, it's not the most exciting amp on its own, but set it up to work with the iOS app, and you'll unlock and new world of possibilities. Not only that, but while it won't fit in your pocket, the amp is definitely much more portable than most other amps out there — making it a great option for those that want something they can take on the road without having to pack a pedal board.
We recommend the IK Multimedia iRig Micro Amp to any guitarist that wants a small-scale amp that's versatile and inexpensive. You can buy the IK Multimedia iRig Micro Amp for yourself using the links below.