Design -

8/10

Features -

8/10

In Use -

7.5/10

Value -

9/10
The Casio CT-X series has long offered relatively high-quality and versatile keyboards for musicians across a range of levels, and all for a relatively low price. One of the latest models in the series, the Casio CT-X700, comes at $175 for the keyboard alone, but you'll find dozens of packages online for the beginner musician who's starting from scratch. It's also ultra portable — making it a solid choice for the gigging musician who needs something lightweight.
But is the Casio CT-X700 worth the cash? We've been using it for the past few weeks to find out.
Design
The first thing you'll notice about the Casio CT-X700 is its design, and it's a nice-looking keyboard. Gone are the days when such keyboards would have been built out of a dull gray — these days Casio has adopted a much sleeker black black, and we approve.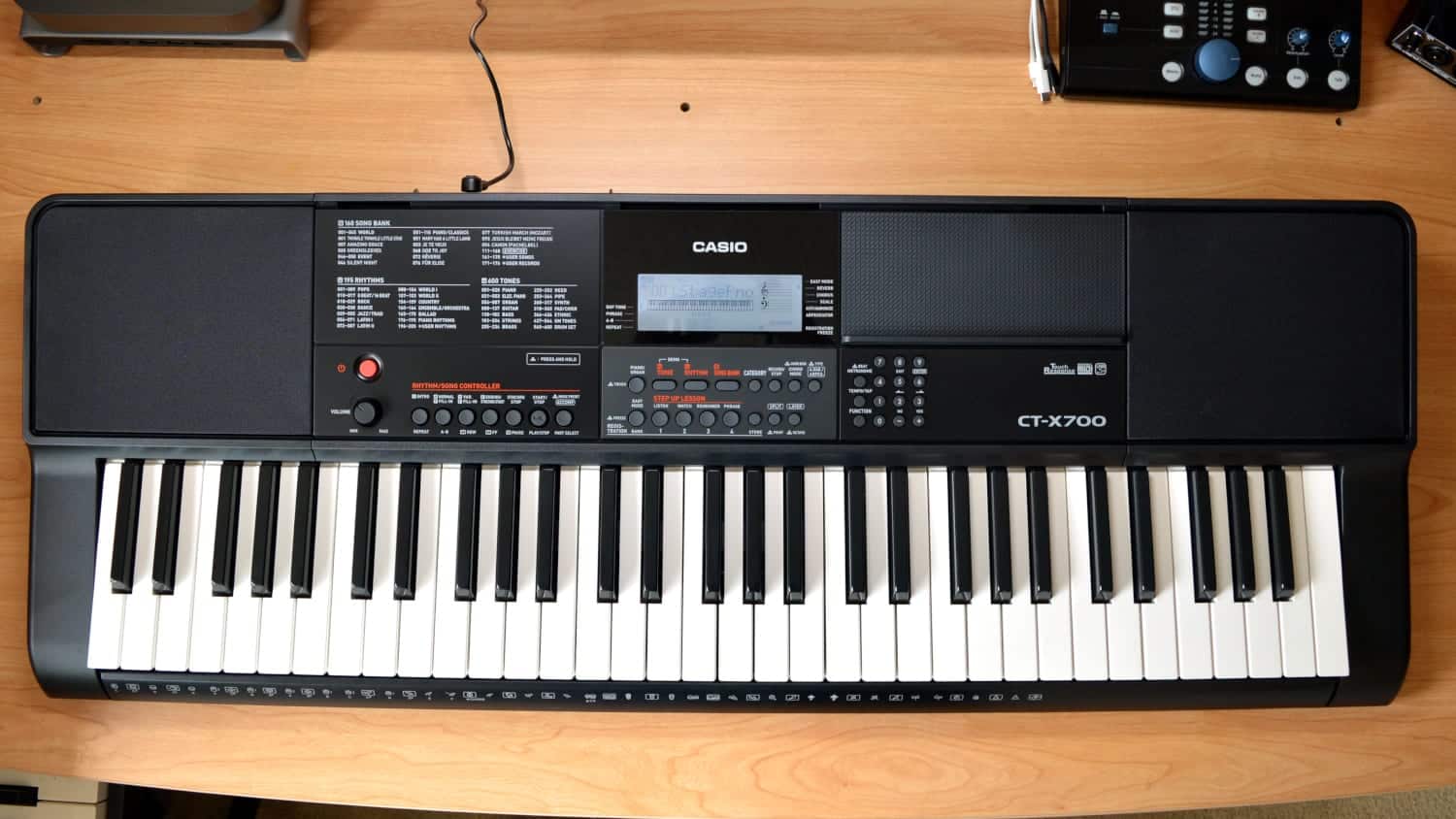 The keyboard has 61 keys, which are below a series of controls for switching the keyboard's tone and playback controls. There are speakers on either side of the keyboard, while next to the left speaker you'll find a list of song backs, rhythms, and tones. You'll also find playback controls for the rhythm or song, along with a volume knob and power button. To the right of those controls, there's a display to show things like the tone that you're using and the corresponding notes on the musical staff.
There are other small design elements that are handy to have too. There's a tray on the face of the keyboard for a smartphone, and you'll get printed notes for keys towards the low end of the keyboard.
On the back, there's a series of inputs and outputs. Apart from the power input, there's a stereo 1/4″ output and an aux input, and a sustain pedal input. There's also a USB port for MIDI — however there's no full-sized MIDI inputs and outputs, which is a bit of a bummer.
One of the best things about the Casio CT-X series is its portability — and the CT-X700 is pretty light. The keyboard comes in a little under 9.5 pounds, which makes it relatively easy to carry around. It might have been nice to include a basic carry bag with the keyboard, but you'll find plenty of bundles that include a bag.
Features
Under the hood, the Casio CT-X700 has a lot to offer. There are a hefty 600 tones on offer, split between pianos, organs, guitars, strings, brass, percussion, and so on. You can further customize those tones with a nice set of effects, including a range of reverbs, delays, choruses, and EQs. The effects are pretty wide-spanning too — there are plenty of reverbs to go through, including different rooms, halls, and plates.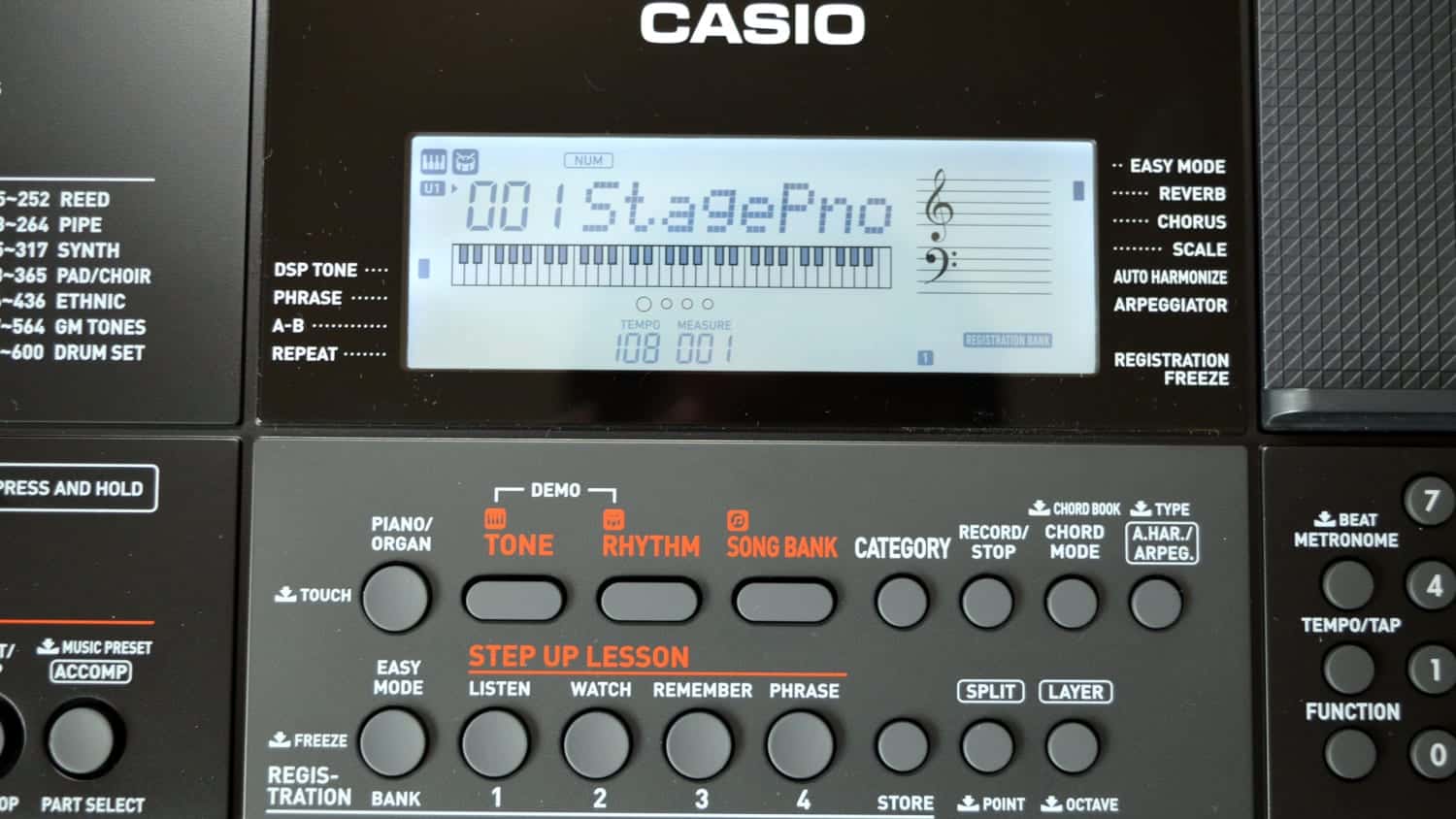 In addition to the tones and effects, there are 110 song demos and 50 practice exercises, making the keyboard a solid choice for beginners looking to learn how to play. The keyboard has a few different modes to help beginners along too — there's an "easy" mode, and songs can be separated by hand.
There are a few features missing that would have been welcome to soo — like a pitch bend or mod wheel. It won't be a huge loss for most, especially beginners, but those looking for a keyboard for MIDI production might miss those features.
In Use
In use, the Casio CT-X700 is actually quite a joy. Let's get one thing clear — this is an entry-level keyboard, and as such you shouldn't expect to get piano-feeling keys and professional features. That said, for a keyboard in this price range, the keyboard actually felt pretty good.
It will take a few hours to get used to the keyboards features and how they all work, but after a quick read of some of the instructions you should be able to figure it out.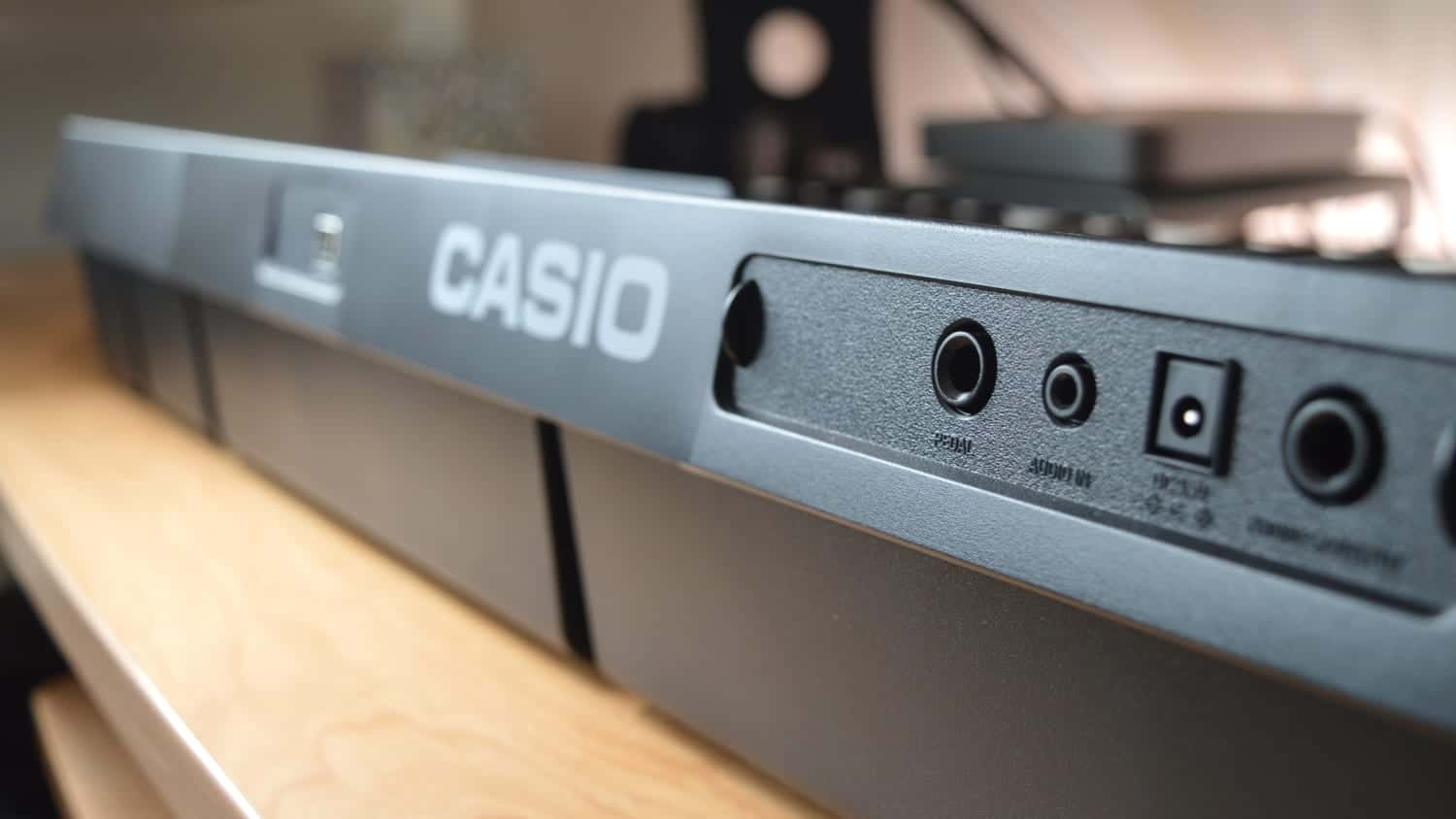 Generally, the tones are what you'd expect from an entry-level keyboard, but some of them shoot above their pay-grade. There are some great synth and e-piano tones, for example. The built-in speakers won't replace actual monitors, but they do the job, and can get more than loud enough for practicing at home.
Conclusions
The Casio CT-X700 is a solid entry-level keyboard that anyone who's looking for a keyboard in this price range should consider. There are a few features missing — like full-sized MIDI I/O and pitch and mod wheels — but the keyboard is still sleek and stylish, quite functional, and offers a ton of great features for beginners.
You can get the Casio CT-X700 for yourself using the links below.