Design -

8.1/10

Features -

9.2/10

Value -

9.5/10
Here's a scenario: your good friend invites you over to their progressive metal band's show for the evening. The show is in a concrete basement, the crowd is packed like sardines, and there aren't many open spots. As soon as you get in the show, you desperately want to enjoy yourself and support your friend, but the dreaded thought of how loud it will be plays through your head. Here, you have 2 options: run to the nearest corner store and buy a bunch of generic earplugs that aren't designed for music and completely cut out any definition, or invest in a pair of earplugs made by a team that knows what it's doing. Eargasm Earplugs has committed itself to perfecting the art of high-quality hearing protection. Before the NAMM Show 2020 commenced, its marketing team cleverly advertised a free giveaway of thousands of pairs of its best earplugs. We took the opportunity to put our reservation down to try it for ourselves.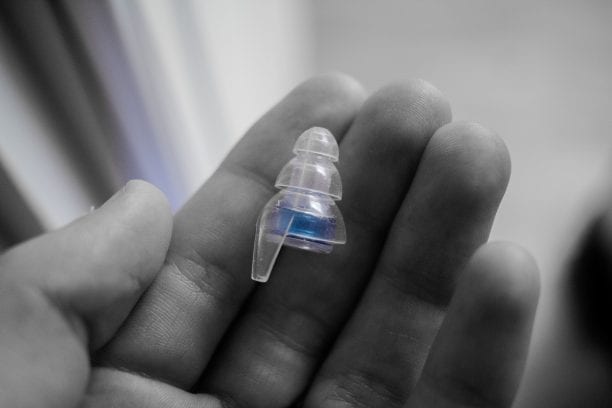 Design
When it comes to the look of Eargasm High-Fidelity Earplugs, its simplistic, yet modern design immediately catches the eye. Because we got them for free, we didn't have the option to choose from its variety of otherwise available colors. But that's just fine because the blue color is the one we would have picked anyways. These earplugs have a tab at the base, which to some, might be easy to confuse with a winged tip. However, the tab is there simply to assist in pulling the earplugs out of your ear after use.
The High-Fidelity earplugs are made with hypo-allergenic soft silicone, so they can tend to get stuck on just about any surface. We were even having some trouble getting them out of the initial packaging from the start. But we do understand that these materials are used only to better its abilities. The earplugs come available in two size options, small, and regular/large. This easily accommodates those who may have different ear sizes. Each plug has three ribs on it to secure in your ear, and prevent itself from falling out.
Features
Being at NAMM 2020 already, we found ourselves in an already perfect environment to try these earplugs for ourselves. With drummers, guitarists, bassists, and just about every other musician you can think of all around us simultaneously testing things out, earplugs were a necessity. As soon as we stopped at the Eargasm booth (which was conveniently placed directly in the middle of the drummers' section), and popped in our new earplugs we were instantly impressed with its around 20dB of reduction. The harsh, loud frequencies around us ducked down in volume, but we could still clearly hear the mid-high range definition.
Every ride cymbal being tested out could be heard and judged in full, just as if we had taken them off. In fact, the earplugs made us so excited that we made a mission to try to find other loud places on the floor to catch our "gotchya" moment, but fell short. We could still have conversations on the floor with other attendees, and step outside to the stage and hear all of the band members playing just as it was mixed. What we didn't hear was any shrill noises that had previously created any unpleasant experiences enticing us to walk away.
Value
For the quality of protection Eargasm Earplugs have perfected, the value couldn't be more present. Where you might otherwise spend $50-100 on higher quality, or custom built earplugs, you can pick up a pair of Eargasm's for just $40. And for a limited time, the company has lowered its prices down to $35.88 per pair. If you're someone in the music industry (which we assume is all of you), go pick up a pair of these for yourself now. And don't wait, you'll thank us later.