Paul Reed Smith started making guitars in 1985 and has since created thousands of incredible guitars. My favorite however is the CE22 ( Classic Edition, Bolt on neck). This is a great guitar; Great tone, amazing playability and looks very nice. This model started production in 1994 but has however been discontinued as of 2008. Though this model has been discontinued it is a wonderful guitar and is easily found used and in great condition. My CE22 was bought used in January of 2013 and is in almost perfect condition (Picture below).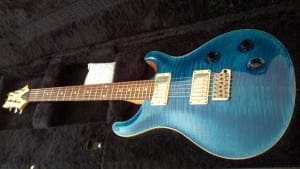 Features –
Body:
Carved maple top
Mahogany back
Neck:
Bolt-on rock maple
22 frets
10″ radius
Rosewood fretboard
Abalone dot inlays
Wide-fat neck carve
Headstock: PRS
Hardware:
PRS tremolo
14:1 low-mass locking tuners
Electronics:
Dragon II pickups with covers
5-way rotary pickup selector
This guitar is slightly shorter than other guitars but still packs a punch. The CE22 has a thick bolt-on maple neck that has a wonderful feel. The Dragon II pickups can do anything from Heavy Metal to Country and Jazz. The intonation on this guitar is beautiful, play soft or play hard, you're guarenteed to be in tune. The low-mass locking tuners are wonderful; changing strings is quick and easy. As a whole this guitar is wonderful in almost every aspect.
Though this guitar has all these wonderful things, there is one thing about this guitar that take some getting used to –
– This guitar uses a 5-way rotary switch, not a toggle switch. This takes some getting used to and for some people is a turn off. For me personally, I enjoy this feature because I tend to hit my toggle switch when I don't intend to.
I have played many guitars but this guitar is my absolute favorite, though it's not the most expensive guitar, it is a very nice and dependable guitar. You can find this guitar used anywhere from $1,100-$1,700 or even higher.
Here is a picture of me playing my CE22 with my Mesa Boogie Triple Rectifier –