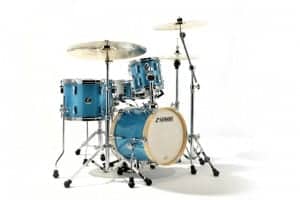 It appears that the German percussion company is doing their take on the compact drum kit, however, the company is calling it "a new take on the cocktail kit", which might not quite be correct, but it does look quite promising. And while it might not be a cocktail kit, it looks to be a great compact drum kit.
The kit is made of
Sonor
's cross-laminated shells and fitted with Remo drum heads. The sizes that come with the shell pack include a 14″ X 12″
bass
drum, an 8″ X 8″ tom, a 13″ X 10″ floors tom, and it also comes with a 12″ X 5″ steel snare drum. Each drum also features Sonor's TuneSafe system. On top of that, it comes with a price tag of $359. No certain finish or color has been announced yet for the kit, but it seems that there will be an aqua blue sparkle finish (see picture).
No official date or time has been announced for when these
drums
will make their way into the market, but it should be here in time for the holidays, which would make the perfect gift for the beginner, or the traveling drummer.