Design -

9/10

Sound -

9/10

Value -

9/10
Slate Digital has been seriously making a name for itself over the past few years, and has become quite the plugin powerhouse. The most recent of its big plugin releases is the new Slate Digital Repeater, a delay plugin developed in partnership with D16, an audio software company launched in 2006.
The new dual-delay, however, isn't alone — there are plenty of delays out there, and plenty of good ones. Can it prove itself a worthy addition to your plugin lineup? We put it to the test to find out.
Design
The first thing you'll notice about any new product is its design, and it actually looks pretty darn nice. Slate Digital has gone the route of making a plugin look like a rack-mounted piece of gear on your screen, a pretty popular move for audio software companies these days, and it has really paid off. All the controls are nicely presented in a way that shouldn't confuse even those that are new to the audio production world, and the plugin is split up into a few different sections, which helps further make the Slate Digital Repeater easy to use.
The first section, which is a slim line of three controls, is located all the way on the left of the plugin, and it gives you your sync controls — either you can not sync, tap out a tempo, or you can sync up with your host, which, in most cases, will be your DAW. The second section dives a little deeper into the actual delay you want to use. You can delay speeds for left and right channels, as well as controls for feedback for each channel too. In between those controls you get a little screen that gives you a visual delay time, and controls to phase invert either the left or right channel.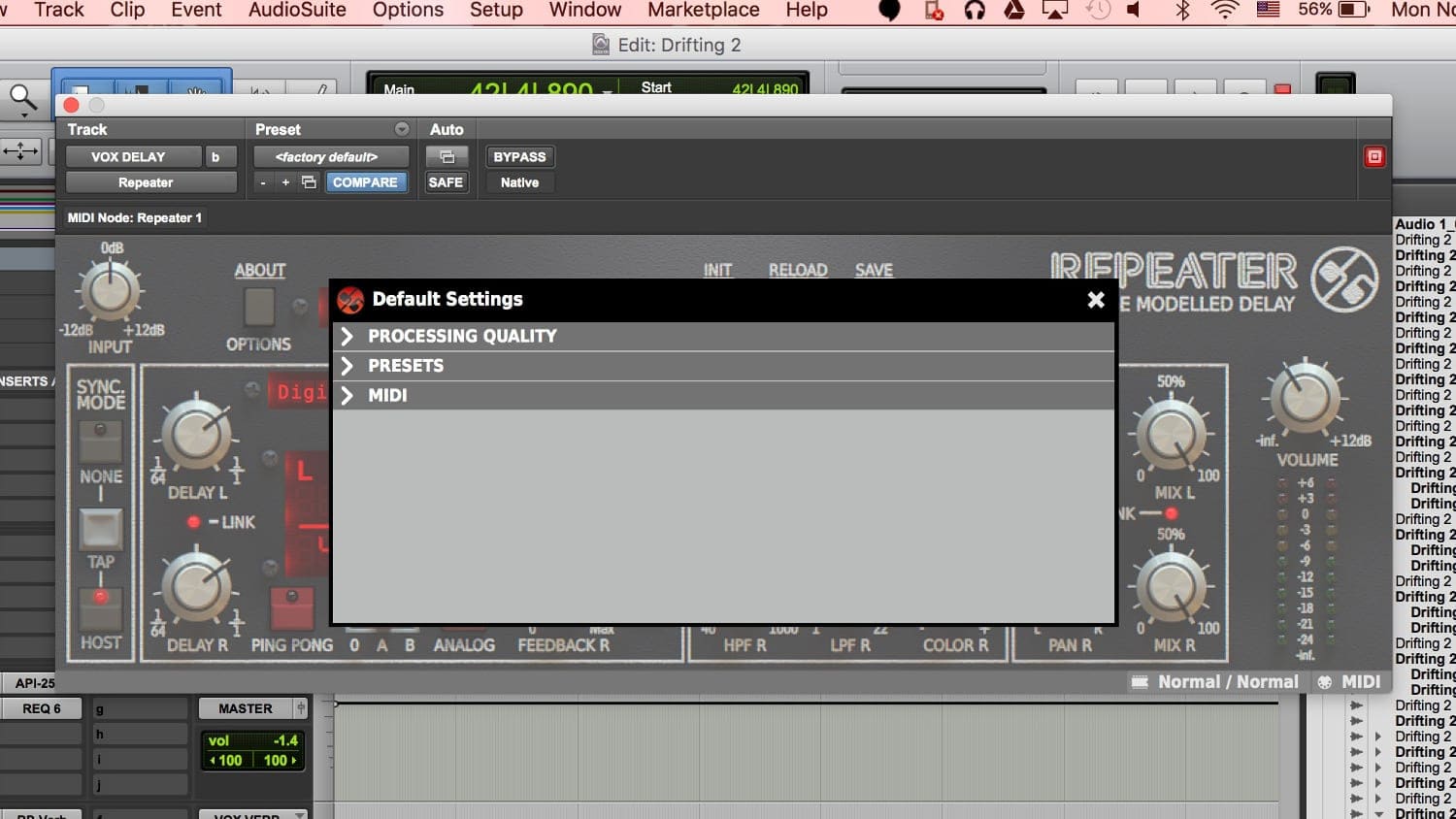 The third section gives you more control over the tone of the delay — you'll have access to a high pass and low pass filter for each channel, as well as a "color" control, which basically gives the delay a little tape warmth, which sounds pretty darn nice.
The last section allows you to control the panning and mix of each channel, and last but not least, you'll be given a master volume control.
Sound
Of course, while design is important enough it's not as important as how the Slate Digital Repeater sounds — and thankfully, it sounds great. There are a range of presets available to get you started, in case the idea of tweaking your own reverb is a little daunting, and each of those presets has its use — from the nice, warm vocal delays to the slightly more experimental soundscape type delays.
In fact, those presets are largely aimed at emulating classic delay units, ranging from, as Slate Digital says "classic oil cans and plates to the most famous vintage digital designs." That's really the main draw to this delay over others — versatility. Some of those emulations sound like classic tape delays, while others are clearly based on digital designs, so you'll have plenty to play around with.
Perhaps the only real drawback to the plugin is a double-edged sword — that it doesn't offer some of the more complex controls that some might want, but the omission of those controls makes the plugin a lot easier to control, especially for someone who doesn't need an overly complicated user interface. For example, there aren't really any modulation controls, but for most people looking for a versatile and in-depth delay, modulation may not be all that important.
Conclusions
Slate Digital has really hit a home run with this one — the Slate Digital Repeater is a versatile and in-depth delay plugin that should satisfy almost all delay plugin needs. Sure, there are a few little controls that might be missed by some, but the trade off for that is a far easier to understand interface that's perfect for delay amateurs and pros alike.
If you're already a subscriber to Slate's Everything bundle, which costs $15 per month, you get this plugin for free as part of your subscription. Otherwise, you can get the Repeater for yourself for $99 if you already have an iLok, or $119 if you want Slate to ship you an iLok.