Design -

9/10

In Use -

8.5/10

Features -

9.5/10

Value -

9.5/10
Native Instruments is on a roll. Just a few months ago, the company launched the A-Series of keyboards, after which we were treated to new Audio 1 and Audio 2 interfaces at NAMM 2019. Alongside that release, Native Instruments also launched an ultra-portable MIDI controllers — the Native Instruments Komplete Kontrol M32.
At first glance, the controller looks to be a great option for those that want control of NI's software in a package that they can take on the road with them. It's also relatively affordable — the device comes at only $129, making the cost for entry in Native Instruments' ecosystem even lower.
But does Native Instruments make too many sacrifices to hit the low price, or is this really a steal at the price it comes at? We've been using the Native Instruments Komplete Kontrol M32 for a while now, and can confirm that yes, the Komplete Kontrol is an absolute bargain. Here's why.
Design
The first thing you'll notice about the Komplete Kontrol M32 is that compared to other controllers in its price range, it looks awesome. It's built from quality materials, is laid out in an easy to understand way, and while not as small as some other "portable" controllers out there, the trade-off is better functionality and larger keys — which is always nice.
Let's start with the overall layout of the device. On the back, you'll get a USB port, along with a port for a foot pedal, which is a nice addition. We would have liked to see USB-C instead of the USB-B port that's included, but that's not a huge deal.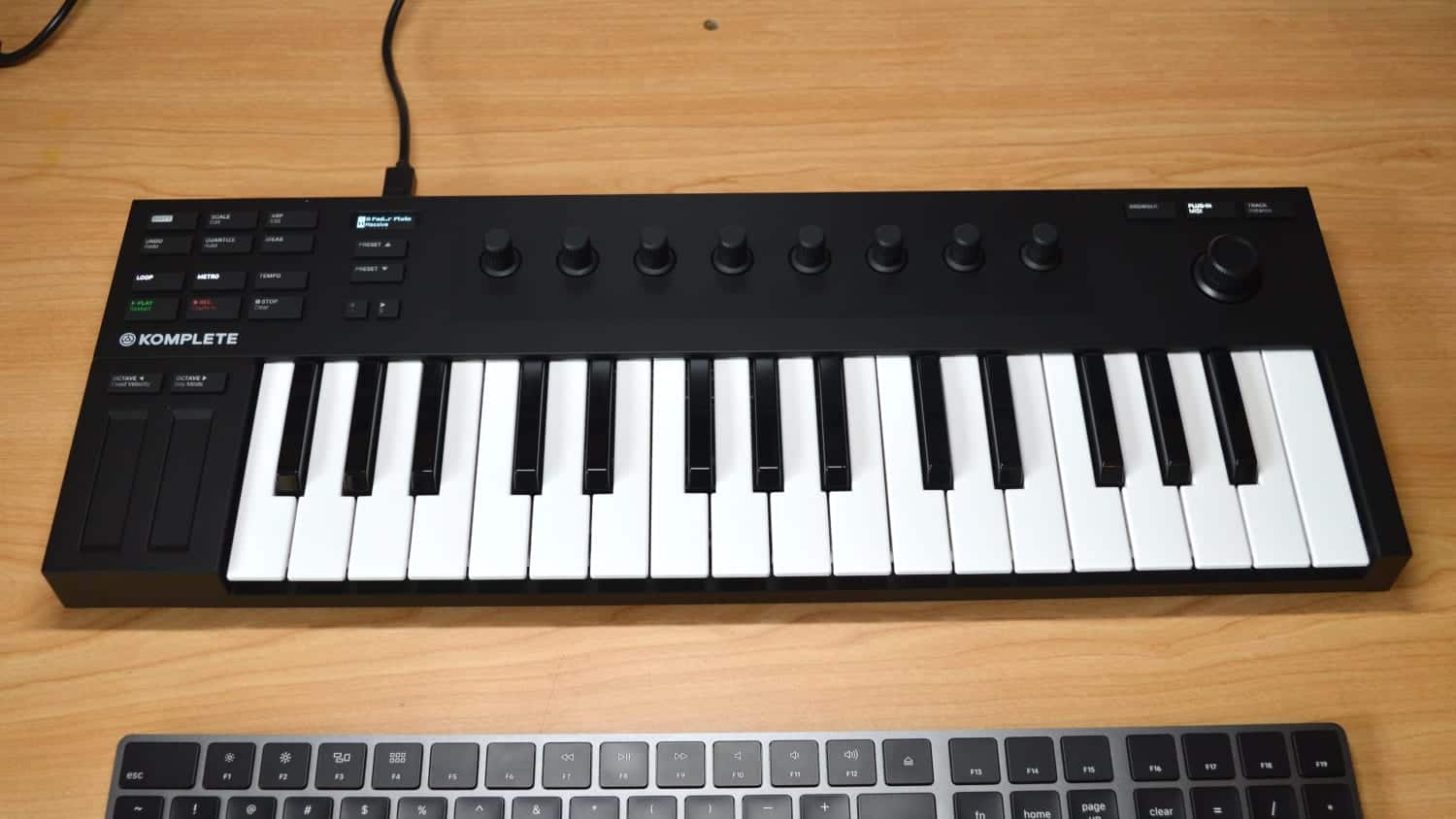 Of course, the top of the device is where most of the action happens — and there's a ton of functionality on offer. The device has 32 keys, as the name suggests, and it has replaced pitch and mod wheels with sleek and easy-to-use touch strips. That's one of the biggest differences between the M32 and its A-series counterpart — but it's not a change we think many will be frustrated with. There are also eight capacitive knobs and an encoder on across the top, which make it easy to browse and manipulate plugins in Komplete Kontrol, which is the software you'll primarily use with the Komplete M32.
On the top right, you'll also get controls for things like quantization, arpeggiation, and transport controls to play and record your ideas. Then, there's a shift button — which unlocks a whole range of other controls — all at your fingertips. It's beautifully laid out, and buttons are tactile and clicky, helping make the keyboard in general feel premium, despite the low price tag.
Software
Perhaps the best thing about the Native Instruments Komplete Kontrol M32 has nothing to do with the keyboard itself — and more to do with the absolutely massive (pun intended) range of software instruments and samples that you get with it. Native Instruments is really pulling out all the stops here — if you buy the Komplete Kontrol M32, you'll also get all the tools you'll ever need to use it. Sure it's a slightly smaller bundle than what you'll get with more expensive Native Instruments controllers, but at this price, the sheer value-for-money is hard to beat.
For starters, there's Komplete Kontrol, which is comprehensive and full-featured. From Komplete Kontrol, you'll be able to organize your instruments and effects into a simple workflow and map your hardware to the way you want to use it. It also works within any DAW — so if you don't want to use it standalone or you want to use it as part of a wider session, which many will want to do, you can do so.
You'll also get Komplete Start, which is a selection of over 2,000 sound and a whopping 17 instruments and effects — including Carbon, Mikro Prism, Monark, and Reaktor Prism. We're not going to go through each of them here, but be aware — you're getting a range of great-sounding instruments with the Komplete Kontrol M32.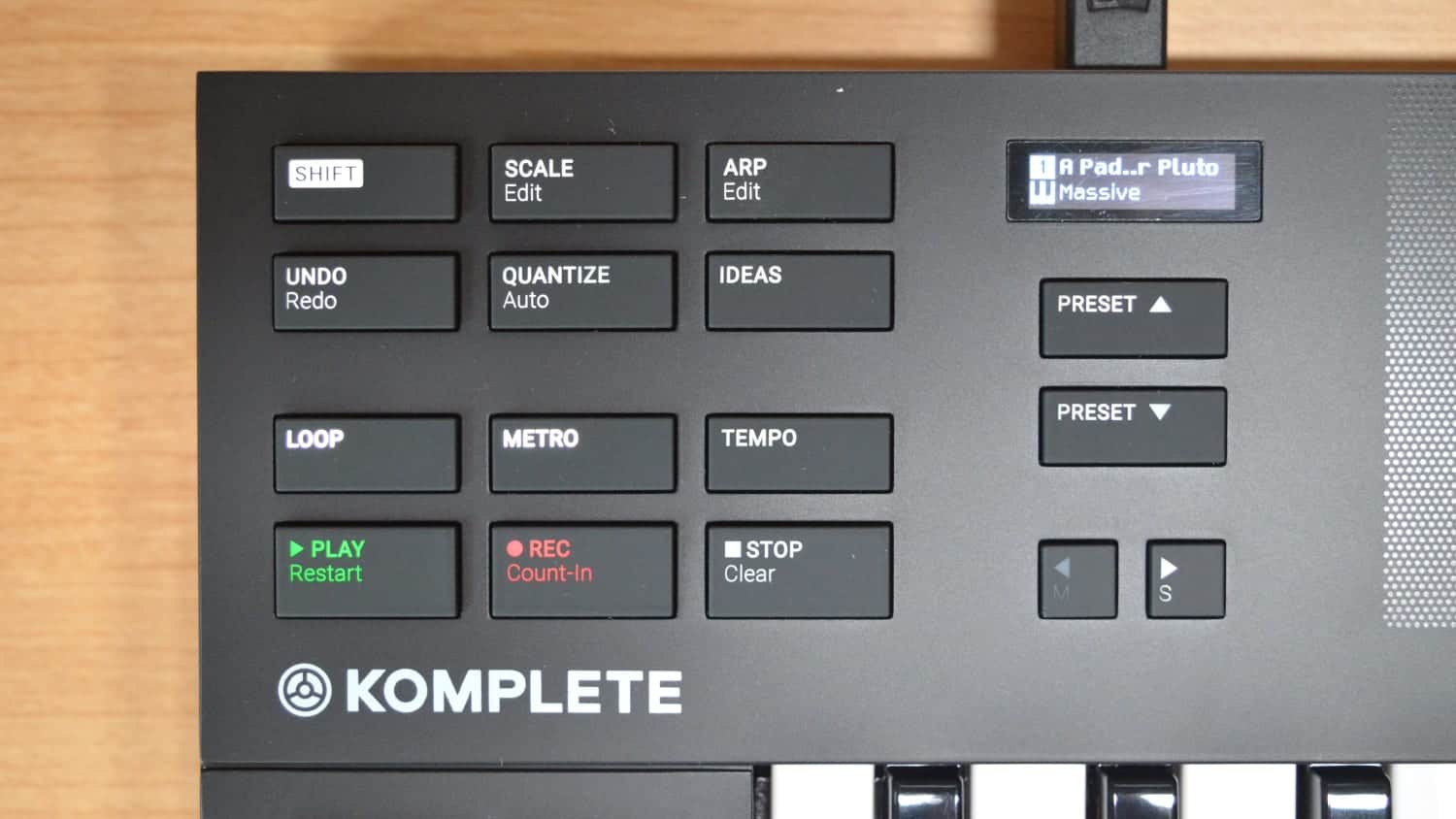 The keyboard plays nice with other software too. If you're planning on using the controller with a third-party DAW, you'll be able to use it to control your DAW and adjust things like channel volumes, mute and solo, and so on — all straight from the controller itself. It's a nice touch, and gives the device even more use on your tablet. Of course, that assumes you're using the right DAW — the feature works with Logic, Garageband, and Ableton Live, so there's no Pro Tools integration here. That, however, has more to do with Avid's restrictions than Native Instruments not wanting to support Pro Tools.
In use
Actually using the Native Instruments Komplete Kontrol M32 is an absolute breeze — though there are a few quirks you'll need to get used to the first time that you use the device. For example, you may want to dive into hardware mapping and MIDI connectivity in your DAW, but that's to be expected. Not only that, but we found that it works relatively easy.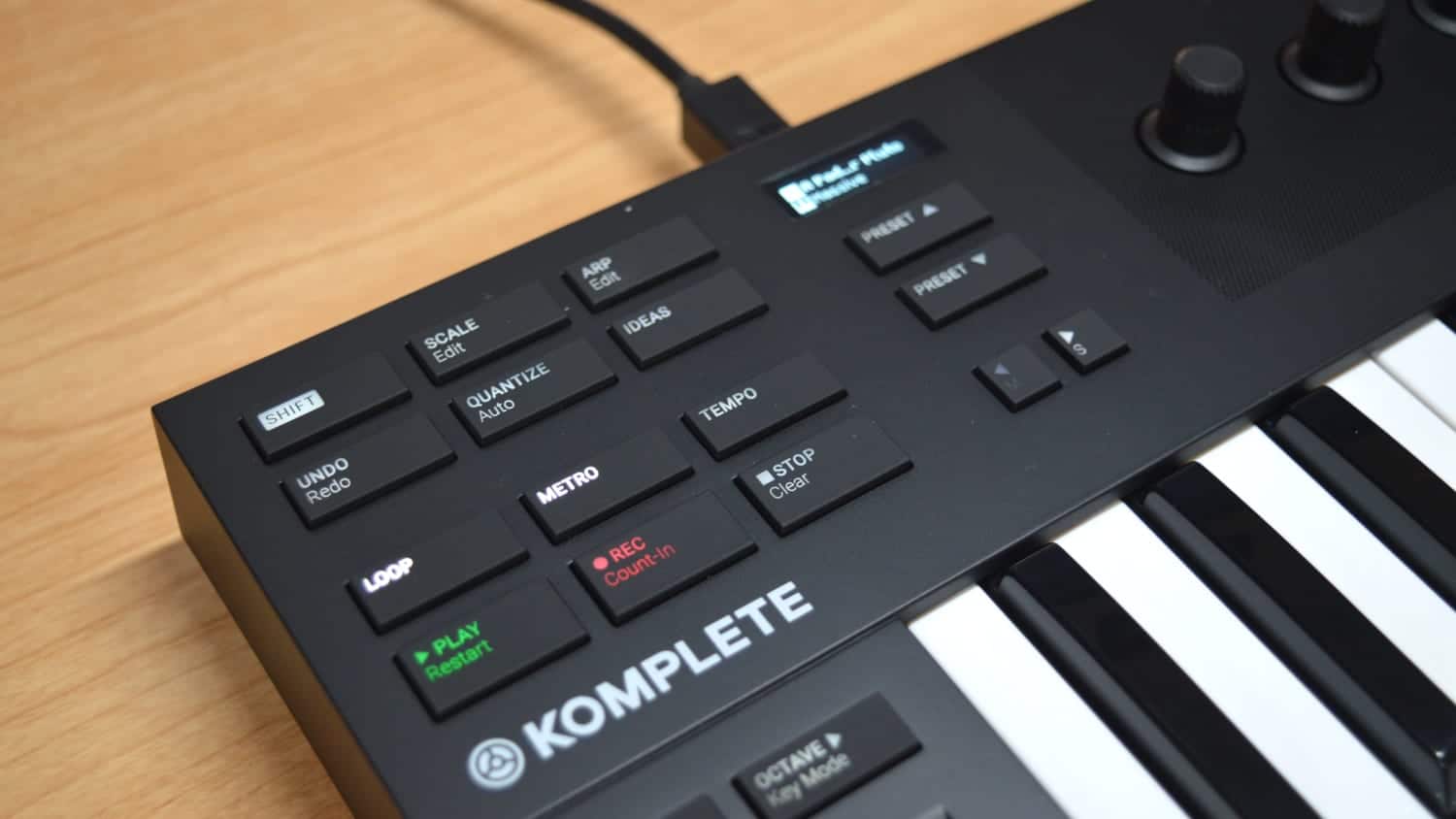 Using the hardware is generally a good experience too. The keys on the device aren't as large as some other controllers, but considering the device is built for portability, that's to be expected. The keys felt generally playable for a controller in this size range, and while this may not be the way to go for a natural-feeling experience, most will be perfectly happy with what's on offer.
Conclusions
Native Instruments has hit a home run once again with the Native Instruments Komplete Kontrol M32. The software bundle and features may not be quite as comprehensive as devices like the Komplete Kontrol A25 or A49, but for a device in this price range, the Komplete Kontrol M32 is still an absolute steal. If you were looking for a MIDI controller alone, this would be a great way to go. Throw in all the software, DAW controls, and excellent instruments, and you have yourself a winner.
You can get the Native Instruments Komplete Kontrol M32 for yourself using the links below.