Design -

10/10

Features -

10/10

Value -

9/10
Over the past few years, FabFilter has established itself as a serious player in the audio plugins world. Time after time, the company has released plugins that are beautifully-designed, great-sounding, and easy to use. Now, FabFilter is back with another offering — the new FabFilter Pro-Q 3 plugin, which promises to take the already-stellar FabFilter Pro-Q and Pro-Q 2, and supercharge them a little.
But is the FabFilter Pro-Q 3 really worth buying? Should you upgrade if you already have the Pro-Q 2? And does it live up to the FabFilter name? We put the FabFilter Pro-Q 3 to the test to find out.
Design
One of the best things about FabFilter plugins has long been their design, and that continues to be true for the FabFilter Pro-Q 3. The plugin features the same frequency analyzer that you would expect from a FabFilter EQ plugin, and that can be extremely helpful, especially when it comes to identifying problem frequencies and getting a quick mix done.
To tune your track, all you have to do is click on where you want to introduce a cut or boost, then drag it up or down depending on how much you want to cut or boost the frequency. For each band, you'll also get a set of controls, which include a knob to adjust frequency, adjust gain, and adjust Q, or the width of the change that you want to make. There's also a drop-down menu to adjust the type of change you want to make. By default, the EQ uses a bell curve, but you can change each band to be a high or low cut or shelf, a notch for more surgical changes, and so on.
Along the top of the plugin window, you'll see undo and redo buttons, and an A/B button, which allows you to set the EQ to two different settings, then quickly change between those settings. It's a very handy feature, and one we wish more plugins would ship with. You can also quickly and easily change the amplitude range that you're looking at. For example, you can set it to only show +/-3dB, or set it to up to +/-30dB. What that means is that you can make small, subtle tweaks very easily without having to be careful about how much you move your mouse, or go for more broad changes if you need. Along the bottom, you'll get controls for MIDI, side-chaining, and so on.
All that to say, the FabFilter Pro-Q 3 is extremely versatile. You can get very detailed with it, with a maximum of 24 bands, or you can do basic and broad changes for a rough mix or to change the overall sound of a track. If you don't want to get too involved, you can also choose from a range of presets, and there are dozens of presets to choose from. That should serve as a good starting point for those looking for inspiration in their mixing. The plugin is also very simply designed. It's easy to wrap your head around using it as a basic EQ, but if you want to get more surgical and make use of more in-depth features, it's pretty easy to do that too.
New features
One of the coolest things about the new version of the plugin is that it adds support for dynamic EQ, essentially meaning that you can set individual bands to work as a compressor rather than just an EQ. We love the added functionality. What it means is that you can set some frequency ranges using the basic EQ, then add compression for others. The dynamic settings aren't quite as comprehensive as FabFilter's Pro-MB multi-band compressor, but in many situations you won't need those extra controls anyway. Using the dynamic setting, you can set the band to expand or compress, depending on the sound you're trying to achieve. By default, the threshold is set automatically — but you can manually adjust the threshold too if you want, simply by hitting the "Auto" button and moving the fader to where you want it.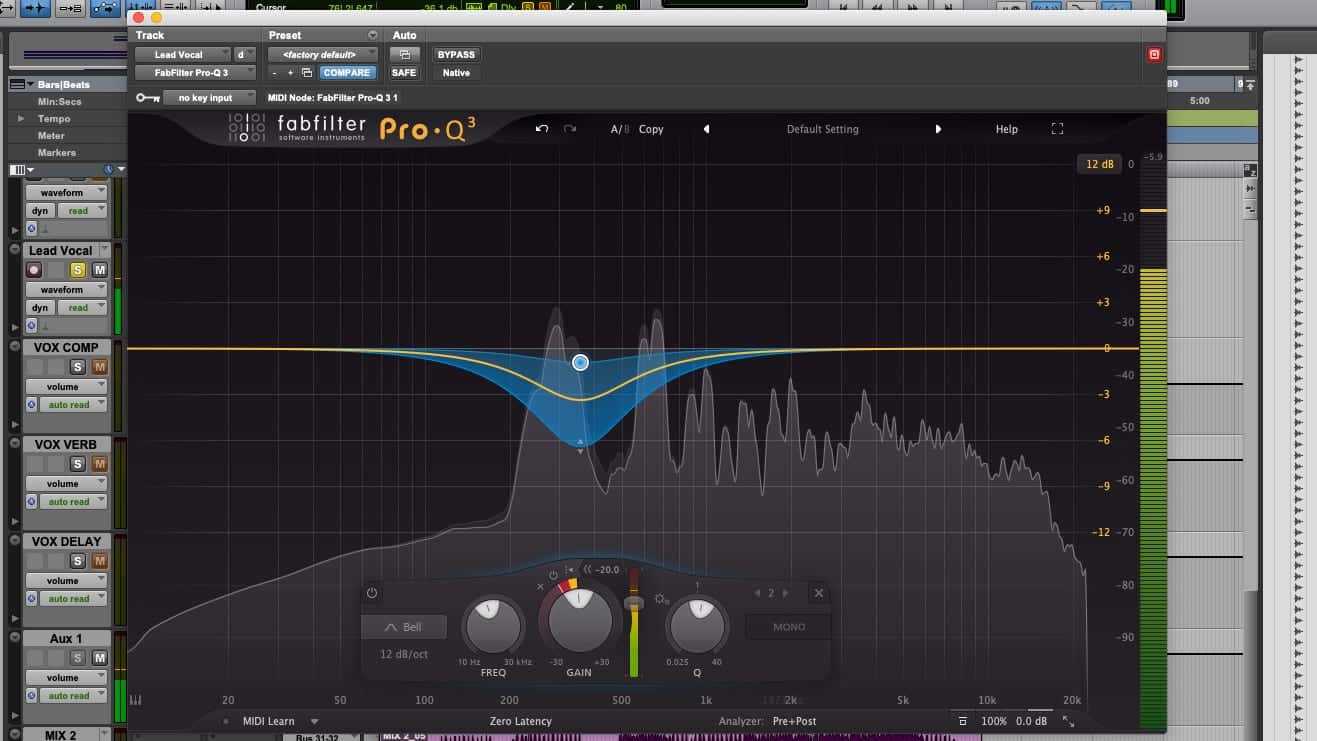 Different instances of FabFilter Pro-Q 3 can work with each other too. By hitting the "Analyzer" button at the bottom of the screen, you can get a visual look at Pro-Q 3 instances throughout your session, which allows you to more easily see how different tracks interact with each other on a frequency level.
Other new features are here too. For example, you can invert gain to quickly set a band to cut or boost instead of what it was already doing, which is a great way to find problem frequencies and cut them out. There's also FabFilter's new "Q-Gain Interaction," which essentially automatically adjusts the Q of the band you're adjusting depending on the amount of gain you have it set to. Small boosts, and you'll get a wider Q. Add huge cuts or boosts, and the Q will narrow a little. You can also add mid-side processing individually to frequency bands. Previously, you could only set the entire plugin to process mid-side or not. The FabFilter Pro-Q 3 could end up being a valuable tool in post production too. For the third-generation plugin, FabFilter has added support for up to 7.1.2 Dolby Atmos.
Sound
Ultimately, none of these fancy features matter if the plugin doesn't sound good — but fortunately, it does. This is really the best thing about the plugin — it's relatively transparent when you want it to be, but it can transform a track too, if you so choose. We found that the plugin was absolutely usable on any kind of track. We tested it on drums, guitars, vocals, and more, and in each situation it worked perfectly. This is really a plugin you could reach for for each and every track that you have, and it would sound awesome.
Make no mistake, this is not a plugin to go for if you're looking to add a lot of color to your sound. It's not aimed at those who want to emulate analog audio. For everyone else, however, who simply want a reliable and solid-sounding plugin, the FabFilter Pro-Q 3 sounds great.
Conclusions
The FabFilter Pro-Q 3 is by far the coolest EQ plugin we've ever seen. Not only is it visually stunning and easy to use, but it also boasts dozens of helpful and interesting features, while sounding awesome at the same time.
There is a danger with all the visual aspects FabFilter is giving its plugins, and that's that users could start to rely too much on how a frequency curve looks rather than how it sound. Of course, we can't fault FabFilter for that — the company merely gives users the tools they need to do the best work they can, and it's up to users to ensure that they continue to rely on their ears.
If you're looking for a new EQ plugin and only want to buy one, this is the one to get. In fact, we would go one step further and argue that the FabFilter Pro-Q 3 is the single best EQ plugin currently available. We also think it's worth upgrading too — so if you have the FabFilter Pro-Q 2 and like the new features in Pro-Q 3, head here to buy a discounted upgrade.
You can the get the FabFilter Pro-Q 3 for yourself by heading here or using the links below.