Beat production has never been hotter. Whether you are producing styles like rap, hip-hop, R&B, or pop you'll need a phat, catchy beat to drive the song. Even genres you might not immediately think of, like pop, rock, and even country have adopted increasingly modern sounds. While you can definitely use software to build your tracks there is still a reason why you might want to go with hardware instead of, or in addition to plugins. Maybe you like the real feel? Maybe you are working on the go and don't want to mess with dragging a computer, interface, and other peripherals around with you. Here are five of the best beat production hardware units.
Best beat production hardware overall: Native Instruments Maschine+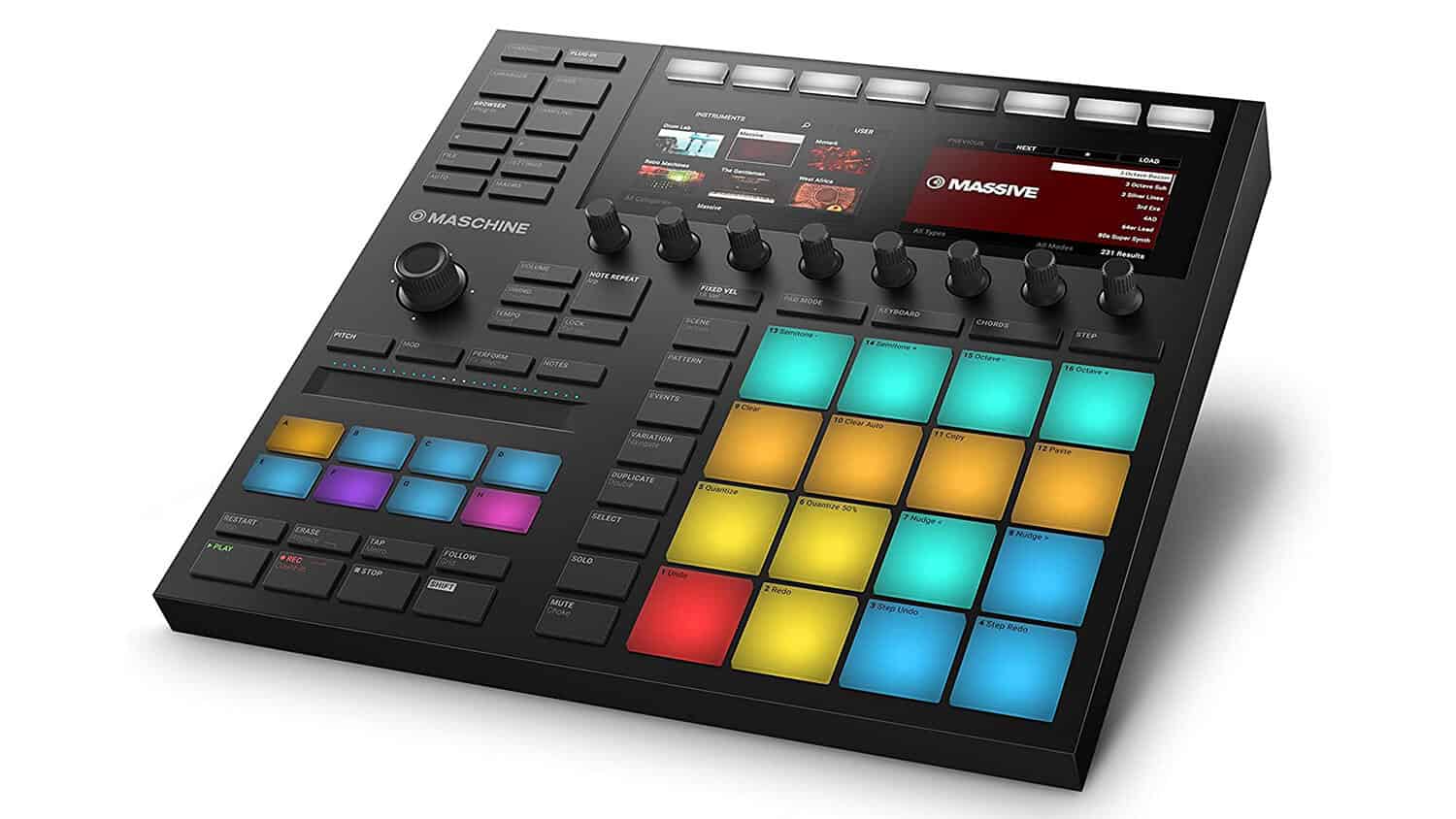 Native Instruments has always been next-level when it comes to virtual instruments. Kontakt is the gold standard for in-the-box instrumentation, but their beat production hardware is just as solid as their software. Maschine+ can be used standalone or in conjunction with your DAW. This means that you are not tied to your system or laptop in order to be able to create productions or use it. Its logical layout simplifies and speeds up your workflow, so you don't lose any inspiration that might hit you in the moment. There are so many sounds at your disposal, including nine synths, 35 effects, and multiple ways to expand the sounds. It includes many of Native Instruments' best-loved samples like Maschine, Massive, Monark, and more. And with the insane number of on-board features like instruments, samples, and effects it is a self-contained beat production powerhouse.
All sounds can be tweaked, chopped, and screwed in whatever way you'd like. This means that you can leave no tone unturned until you get the creative results you're looking for. It has advanced I/O with mic, line, and MIDI inputs as well as USB connections and an input for an expression pedal. Line inputs and outputs let you integrate with other gear and allow you to talk to any recording or live system. The power cable can be locked in by turning it clockwise, so you can always stay connected no matter how crazy your environment is. Native Instruments' expansion library is ever-growing, so you can always add more to your sonic arsenal.
Buy now: $1,399
Amazon | Guitar Center | Sam Ash | Musician's Friend | Reverb
Best beat production hardware over $1,000: Akai MPC X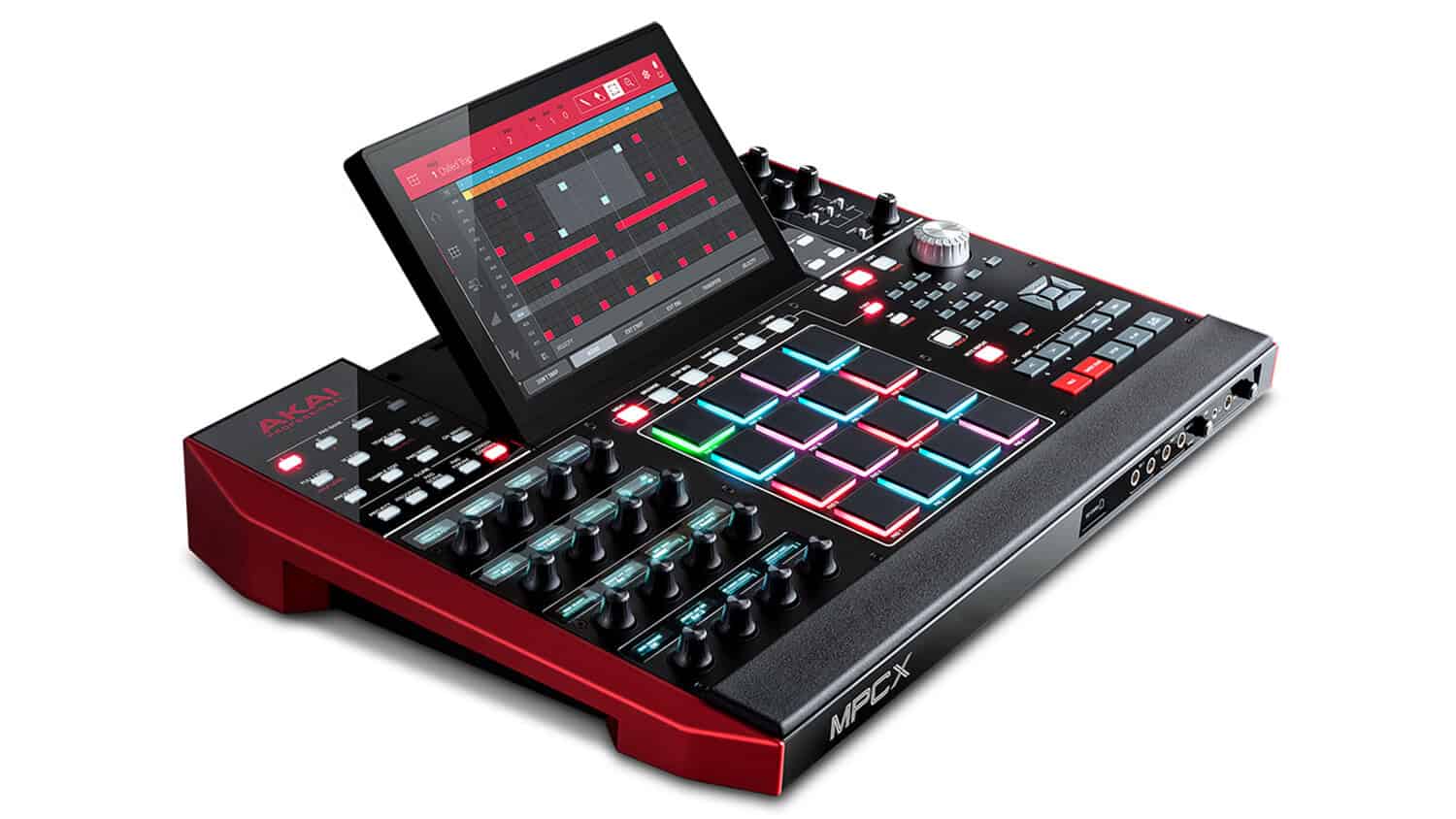 As far as the best beat production hardware goes, it doesn't get much more sophisticated than this unit from Akai. Whether used as a standalone unit or routed into your DAW you can build, arrange, and edit your grooves in any way your imagination can create.
With a massive 100GB library of built-in sounds you'll never run out of options for your ideas. It's great for mobile use, with a built-in 10.1" touchscreen display. Routing includes XLR, phono, MIDI, and USB connections. Integrate your own synths with the 8 CV outputs. It's got so many features that the learning curve might take a bit, but the only real limits here are is your imagination.
Buy now: $2,2299
Amazon | Guitar Center | Sam Ash | Musician's Friend | Reverb
Best beat production hardware under $1,000: Roland MV-1 Verselab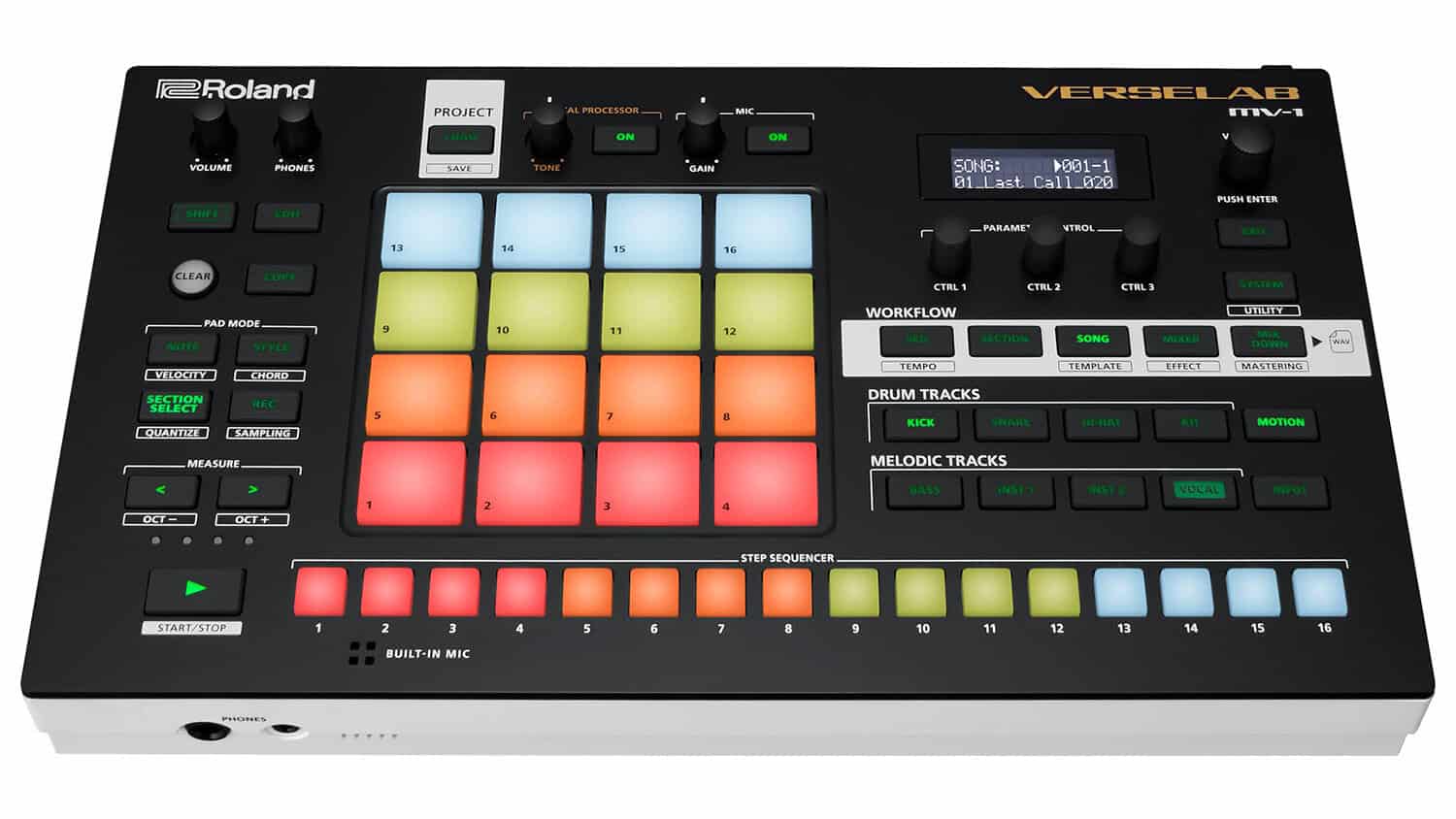 With over 3,000 sounds are at your disposal, this reasonably affordable option from Roland makes one of the best pieces of beat production hardware. A 16 step sequencer makes creating melodies, drum, and bass parts a breeze. The 4×4 touch pads are all backlit, making it great for dark stages and vibey studio sessions. You can use the built-in mic or use your own with the XLR input. Editing vocals are easy and you can spruce them up with tuning, doubling, and harmonizing.
It integrates with your other devices really well, including any tablets and smartphones. Not only as far as features go, but also with moving project files back and forth between mediums. Roland's Zenbeats app further opens things up. With it you can take productions from start to finish, as the MV-1 can even handle the mixing and mastering phases of whatever you're working on. The only real downside is that it only has MIDI and headphone outputs (no ¼"), but this shouldn't really inhibit your workflow that much. And if you're a producer on the go, it has a mobile battery or can be powered by USB.
Buy now: $829
Amazon | Guitar Center | Sam Ash | Musician's Friend | Reverb
Best $500 beat production hardware: Roland MC-101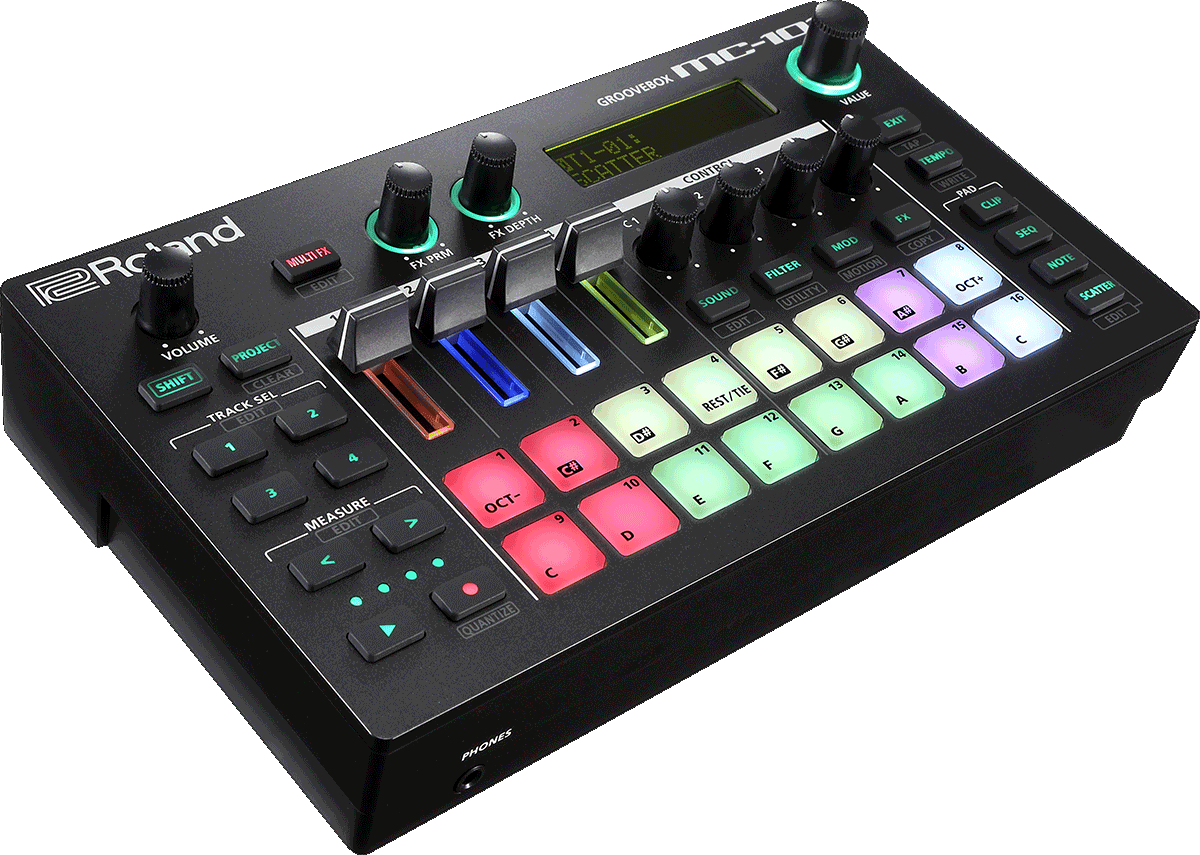 This groovy little groovebox might be smaller, but it definitely doesn't lack on features. Through four tracks you get an array of tones, drumkits, samples, and effects. Onboard effects include EQ, chorus, reverb, compression, and more. It's got a looper and sequencer, and you can create everything right in the unit and save to SD card if you want.
If you want to get even more weird, the looper section can stretch and time shift. It's got audio, MIDI, USB, and headphone outputs. Uniquely, it can be powered by AA batteries. And at full charge you'll get around five hours of life from them. Roland makes some of the best beat boxes in the business. And with all of the features on this affordable unit it's easy to understand why.
Buy now: $549
Amazon | Guitar Center | Sam Ash | Musician's Friend | Reverb
Best beat production hardware on a budget: Electron Model:Samples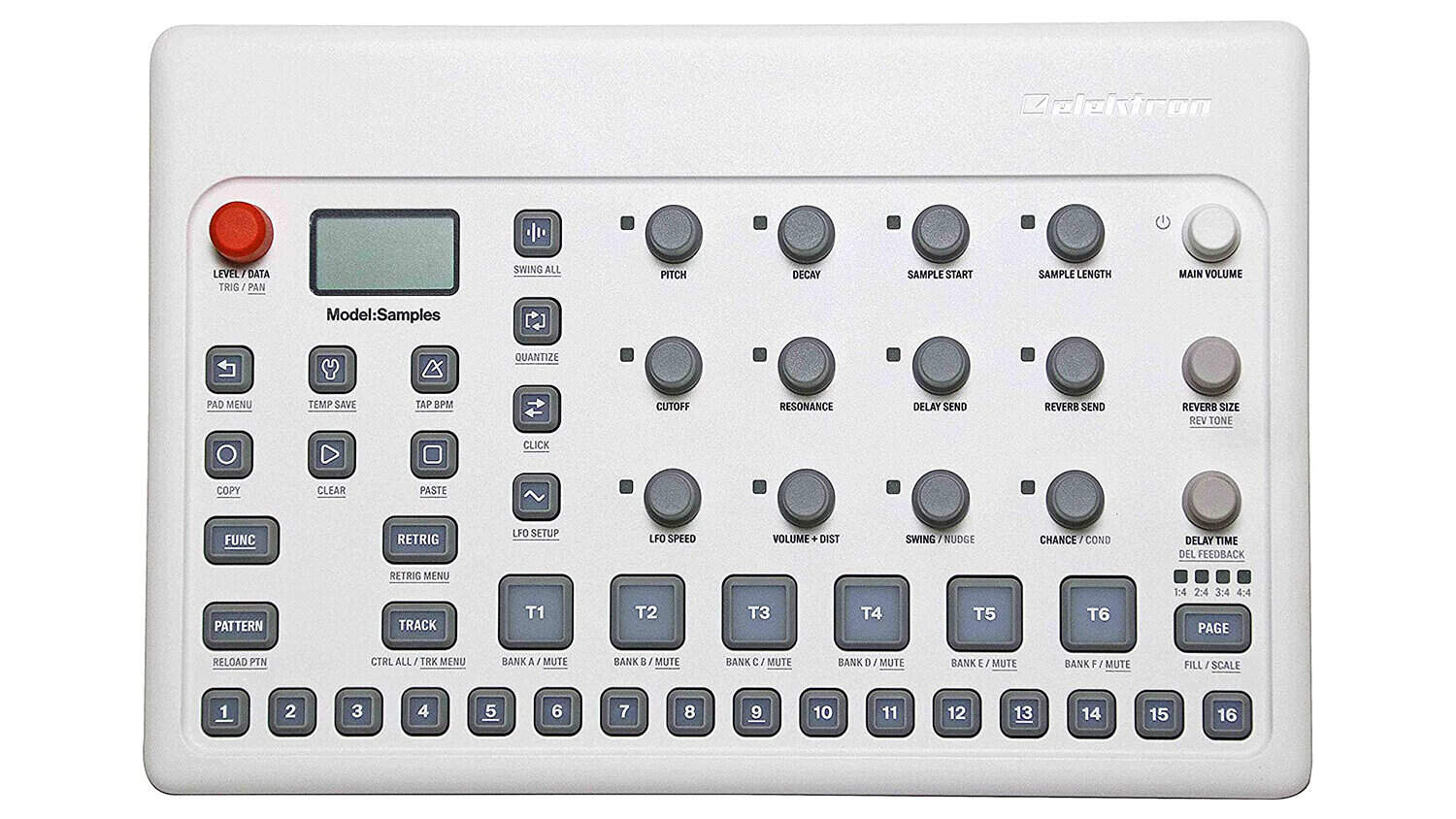 Lay down your grooves through six tracks on a budget. It has 300 on-board sounds provided from acclaimed sample resource Splice.com. This option is great for those who prefer the tactile feel, as every function has its own dedicated control or knob.
The pads are velocity sensitive, and you can build everything within the sequencer in the unit. You can even load your own customized samples into the 1GB hard drive. Each track can output MIDI files so you can load it into your DAW or route it to another unit for further editing or mixing.
Buy now: $299
Amazon | Guitar Center | Musician's Friend