Well, I thought I'd take a break from NAMM stuff and do a post I've been meaning to do for a while now. With the release of Behringers new iPad mixers it is becoming more and more apparent that the iPad and tabletcomputers in general are going to have a place in the audio world. Now yes it is true that the iPad is probably not yet capable of handling full Pro Tools sessions with tracks upon tracks and plugins upon plugins. But the iPad would definitely come in handy for recording tracks away from your home studio to be mixed later, or even for small acoustic singer-songwriter sessions. So without further ado here is a list of some of the best and newest pieces of gear for the iPad.
Alesis iO Dock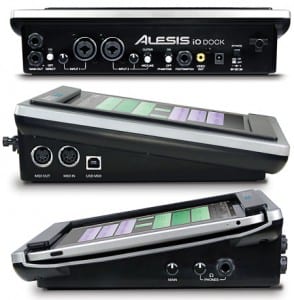 The Alesis iO Dock
is perfect for the beginner home studio. It's portable and contains two combination mic/instrument inputs. It also has support for MIDI. Now, normally I'm not a huge Alesis fan, and I'm sure this isn't the best sounding unit out there. Despite that, I think this is a great beginner device and can really get someone started in recording. While the preamps probably are not INCREDIBLE, things like mic placement and good producing should balance this out, depending on the hands that it's in.
Focusrite iTrack Solo
Personally, I am a huge Focusrite fan. I have never had any issues with them and used a number of their interfaces, with great success. Their preamps are known for sounding great and their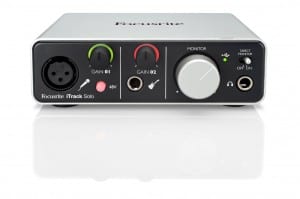 interfaces are incredibly easy to use. The Focusrite iTrack Solo
 I'm sure is no exception to that. This little device seems to be perfect for those on the go sessions, and comes with one mic input and one instrument input. Therein lies my only gripe with this device. I would have liked to see at least two mic inputs. It's rare that I'll do a session on anything with only one mic, unless it's vocals of course. However I think the iTrack Solo
 would be perfect for someone starting out with recording and  who won't necessarily need more than the inputs provided. For anyone a bit more advanced I would suggest reading on. The iTrack Solo
 is also compatible with Mac AND PC via USB, making for a rather versatile unit which could definitely come in handy.
Apogee Duet / Quartet
The Apogee Duet
and its big brother, the Apogee Quartet seem to be the big cheeses of the iPad audio world. The Duet
comes with two mic/instrument inputs. Even though it's still only two inputs, I like the flexibility of being able to choose using a mic or instrument in each input. The Quartet, as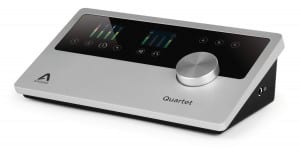 the name suggest, doubles the number of inputs with 4 combination mic/instrument inputs, which should be perfect for any home recording application, but in case it's not, there's support for more inputs via ADAT. My only question would be of bandwidth and how much the iPad can handle at once. While the Apogee iPad line is a fair bit pricier than the Focusrite, it also offers a lot more, so think about what you need from an audio interface before deciding on which one to get.
Mackie DL806 and DL1608
Heres one for those live sound guys. The Mackie DL806
and the Mackie DL1608
are essentially iPad controlled mixers. The Mackie DL806
has 8 inputs, which any live sound guy will know can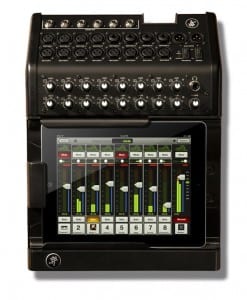 run out very quick. Nevertheless it will be perfect for smaller gigs, such as cafe style acoustic gigs or something similar. If however 8 inputs is clearly not going to be enough or you know that you might need this unit for bigger concerts then check out the Mackie DL1608
. This comes with 16 inputs and 6 aux sends, compared to 4 in the DL806. Theres a number of great things about these iPadmixers. Firstly, they can be remotely controlled by your iPad, meaning that you can walk around the room and mix as you move. This is a great feature. Also, more than one iPad can be connected to the mixers, meaning that you can give an iPad to each band member to control their monitor mixes. I love the idea of these mixers and I really think they are the way of the future. I think any live sound engineer should really consider these mixers, especially because of Mackies great reputation in the field.
Well, there ya go. These are the best iPad audio products available on the market. According to me of course. I'd really like to hear from people who own any of these products or any other iPad audio interface. How much exactly can the iPad handle when recording? Do you experience any problems with these interfaces? Let me know in a comment below!