Design -

9/10

Sound -

9.5/10

Value -

8.5/10
The RZ062A and RZ062B Siemans equalizers are classic, and they first appeared in the Klangfilm System, a console built for post-production mixing. Since then, they've become quite sought after by some music pros, thanks to their effectiveness on vocals. Now, however, you don't have to buy the hardware to get that classic tone — instead, you can buy the Audified RZ062 plugins.
We've reviewed plenty of Audified stuff before — including the U78 compressor, and TNT Voice Executor — and each time we've loved what they have to offer.
The two new plugins promise to be a great addition to any studio's arsenal, whether the studio has hardware EQs or is a totally in-the-box studio that sticks to plugins. That's especially true given the fact that the hardware EQs can cost as much as $12,000 — while these plugins sit in at $200. Still, $200 is a lot. Should you pay it? We put the plugins to the test.
Design
The first thing you'll notice about the plugin is its design, and it may take a little getting used to — but once you do it's pretty easy to use. The plugin is designed for stereo use — but in mono, which is totally possible, only the left side will be active. You'll get controls for input and output levels on the left, and directly next to it is where you'll get your EQ controls — a knob for highs, one for mids, and one for lows. Quickly messing around with each knob will tell you exactly which is which (highs up top, lows at the bottom), but you'll also see little music notes which indicate which is which.
You'll also notice a few switches for things like turning the EQ on, as well as selecting between mid-side mode or linked mode — which helps make the EQ useful in a wider variety of situations.
In general the plugins are well-designed and quite easy to use. They look almost exactly the same, so you won't have to learn how to use two different plugins. We'll talk about the differences between the two a little later, but at least from a design perspective the plugins are very easy to use.
Sound
Of course, design comes second to sound when it comes to audio plugins — and thankfully the two plugins sound great two. Now, you might be wondering what the differences are between the two plugins, and the answer lies in the mids knob. While the Audified RZ062A mid knob rotates the entire frequency curve around a central point, the RZ062B knob allows you to adjust one of four preset frequencies.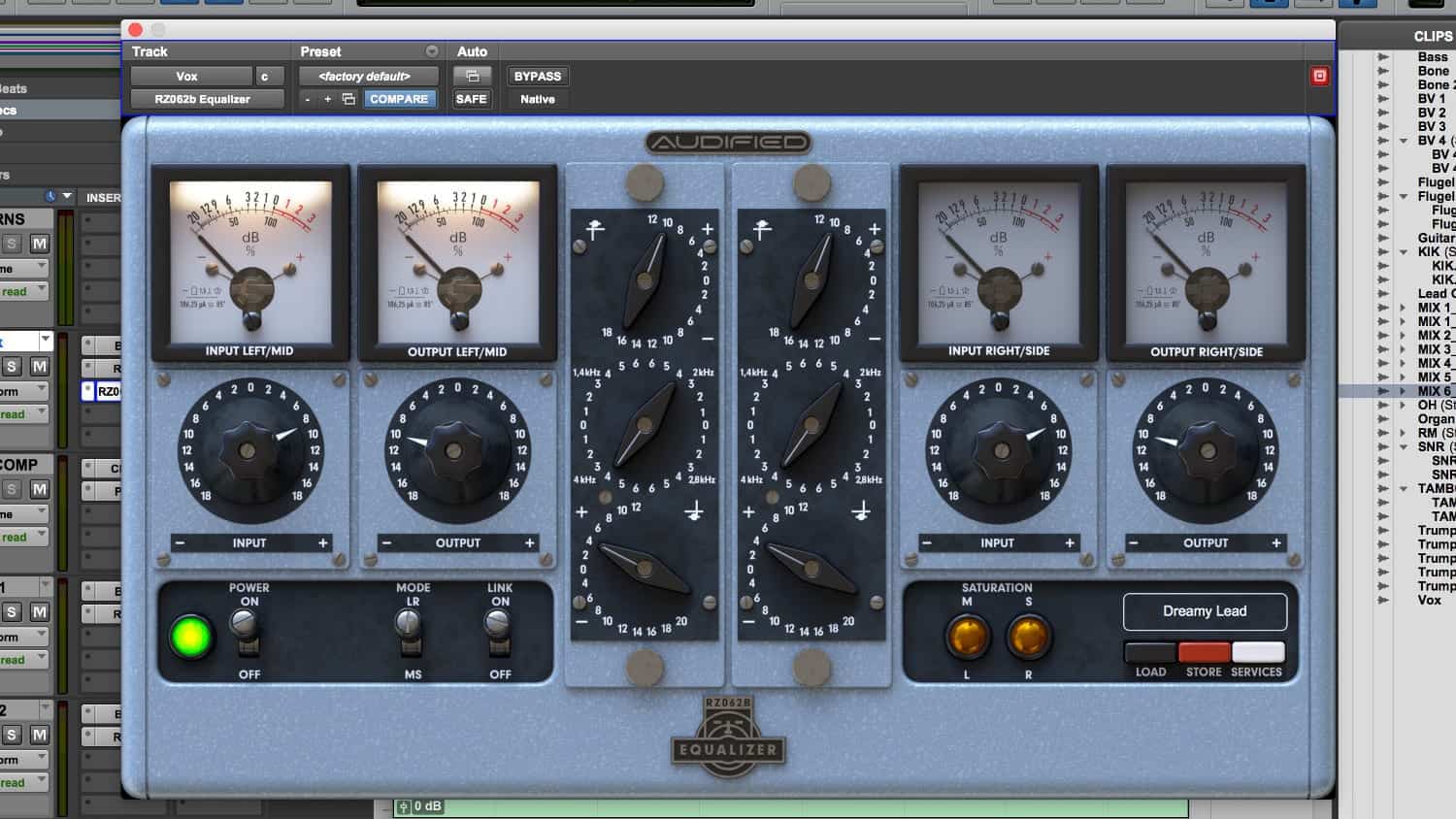 Now, if you're looking for a surgical EQ, keep looking — these plugins are not surgical by any means. But that doesn't mean they don't have value — in fact, they sound great. The Audified RZ062 plugins have long been hailed as an excellent choice on vocals, and we couldn't agree more. They're particularly good at helping the vocals keep a slightly warm tone while excelling in the high end, ensuring that a vocal more easily cuts through a mix. Often, you'll want to use this EQ in conjunction with another, slightly more precise one, but for more broad boosts and cuts, both the Audified RZ062 plugins have a lot to offer.
They're not limited to vocals either. We set them up on a stereo drum overhead track with some great results. And, on a stereo room track, we were able to push the EQ a little more with the input knob, giving the track some of that sought-after valve saturation. The plugins are excellent at bringing presence to cymbals, vocals, and so on. They're pretty good at handling bass guitars too.
If you're not exactly sure how to approach using the plugin, there are a range of presets to get you started too, which is a nice addition.
Conclusions
The Audified RZ062 plugins are easy-to-use, and sound awesome. We've never used the original RZ062 units, so it's hard to say how true they are to the original — but for some that may not matter. We loved using the EQ to bring out a vocal and cymbal track, and while it didn't blow us away on bass like it did on vocals, it still came in handy on a bass track in our testing.
If you're looking for a great EQ to give your vocals some color, we highly recommend the Audified RZ062A and Audified RZ062B plugins. You can get them for yourself using the links below.
In fact, if you buy now, you can get your hands on the plugins for $150 — which is a cool $50 off the eventual price of $200.