Fresh from esteemed guitar manufacturers at Martin Guitar, is an expanded 'SC' line featuring two new instruments. The latest line features both the SC-10E (pictured below, left), and SC-13E Special (right). Both guitars were announced during NAMM's 2022 Believe in Music virtual event, and are available now for purchase. Let's take a dive into both of these new instruments, and see what kind of specs they offer to musicians.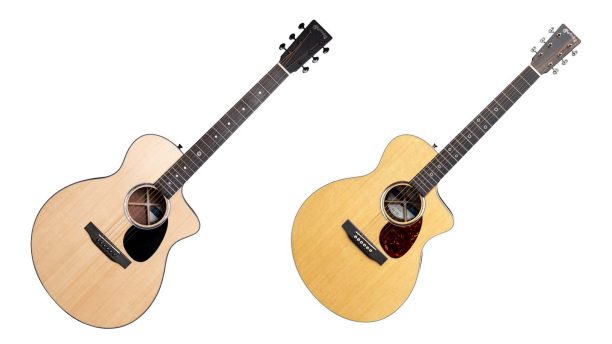 Martin Guitars SC-10E
The Martin SC-10E comes with a satin-finished sitka spruce top, and koa veneer backing. Martin designed its neck using the 'Sure Align' neck system, which ensures full access to all twenty frets, and ergonomic accommodation to the hand while playing. Inside, it packs a Fishman MX-T pickup which delivers a rich, clean tone when plugged in to a PA or amplifier. The SC-10E's strings fall over a neck and bridge, both made of ebony for a quality acoustic experience. The white corian nut provides plenty of additional support, while keeping the guitar in tune for as long as possible. The Martin SC-10E is available now, priced at $1,299. For more info, or for a list of dealers, check out the Martin Guitars site.
Martin Guitars SC-13E Special
The SC-13E Special offers an even more upgraded acoustic experience to anyone looking to explore the latest SC models. This features a sitka spruce top, with Ziricote fine veneer backing. The SC-13E also offers twenty frets, along a 25.4″ scale neck. Much like its release partner, this guitar uses ebony for both the fingerboard, and bridge. Additionally, the nut is also made of white corian as well. Inside, this instrument houses an installed LR Baggs Element pickup, for a truer experience to these specifications. The Martin SC-13E Special comes in standard, or burst color finishes. However, there is a price discrepancy between the two. The standard 13E is available for $1,799, whereas those who want the burst model will have to pay $1,999. Once again, to learn more about this model, or to locate your nearest Martin dealer, check out the website here.