Gibson recently released new version of their classic ES-335 and ES-339 guitars, the ES-335 and ES-339 Studio. Both guitars are a fraction of the price of their older brothers, but offer a great tone nonetheless.
The ES-335 Studio is 100% American-made, and features classic Gibson humbucking pickups. It has simplified pickup controls and does not come with a pickguard. The pickups in the guitars are a Gibson Classic 57 in the neck and a Super 57 in the bridge.
The ES-339 Studio is a little more compact than the ES-335, but includes the same look and feel. It has many of the same features as the ES-335 Studio, including the same pickups.
You can buy the ES-335 Studio for yourself here, and the ES-339 Studio here.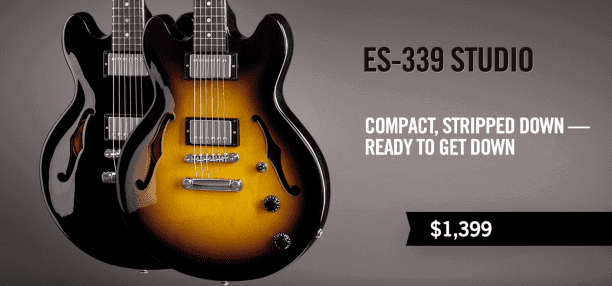 Sources: Gibson (ES-335) and Gibson (ES-339)